When you think about the geography of cannabis, most likely the first places that come to mind are progressive states where marijuana is legal for recreational purposes – places like California, Oregon, and Colorado. 
We know from public opinion polls that support for cannabis varies widely across parts of the country. However, most polls are conducted at the national or state level and focus only on the question of legalization. This survey data doesn't tell the whole story.
Our team at Medical Marijuana, Inc. set out to capture a more granular view of the country. Our goal was to determine which metropolitan areas are most interested in cannabis. We built a ranking model using aggregated search interest data from Google Trends in order to calculate which areas of the country are searching online the most for queries related to cannabis. 
Overall, we found that parts of Northern California and Oregon ranked the highest. Eureka, California was most interested in cannabis – a community that is famous for its cannabis farming. Second on the list came Medford-Klamath Falls in southern Oregon. We were surprised, however, to find that three areas in Oklahoma cracked the top 10. 
Read on for the full findings, ranking scores, and description of the research methodology.
Key takeaways
Five metropolitan areas in California, Oregon, and Colorado ranked in the top 10.

Out of the 182 metropolitans included in the analysis, Eureka, California had the highest interest in cannabis. By comparison, the Rio Grande Valley region in southern Texas scored the least interested.

Three areas in Oklahoma (Ada, Tulsa, and Oklahoma City) ranked in the top 10.
Map of cannabis interest
Through the interactive map below, you can see the rates of interest in cannabis in 182 metropolitans across the country.
Hovering over each metro area reveals both a raw score and a normalized score. The raw score indicates the Total Search Interest. In other words, it represents the cumulative search interest scores for queries related to cannabis in a given metropolitan region as a proportion of all searches on all topics on Google in that geographic area. Normalized scores are simply the raw scores that have been converted to a scale of 0-100, allowing for easier comparison between metropolitan areas.
In short, higher scores indicate that people in that particular area search for cannabis topics at a greater rate. The map's color-coded system also provides a visual, at-a-glance look at the interest in metropolitan areas across the U.S.
10 metropolitan areas most interested in cannabis
1. Eureka, California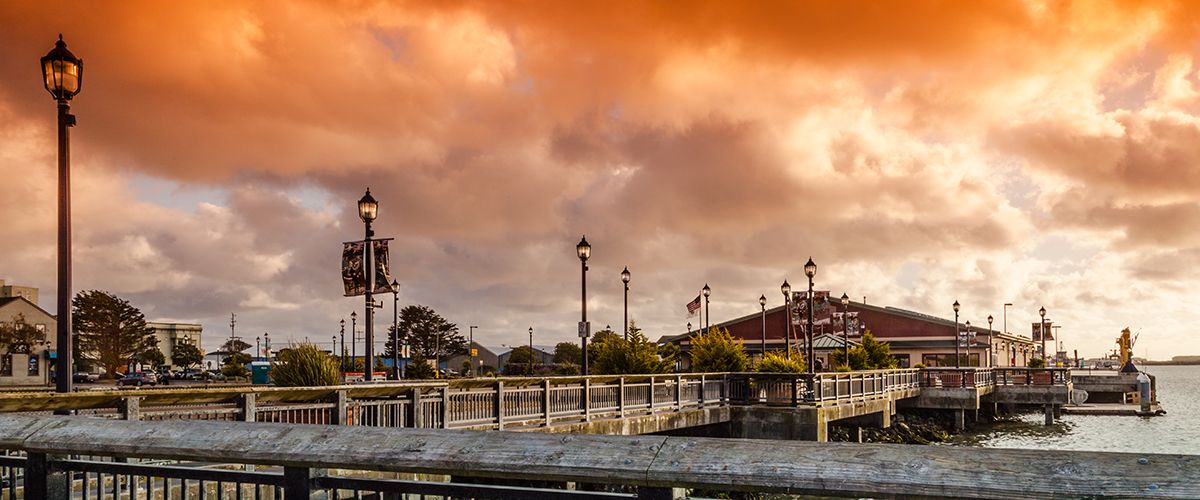 Eureka is a small town in Northern California with a population of approximately 27,000. It's not at all surprising for Eureka to take the top spot for cannabis interest. The city is located in Humboldt County, the epicenter of cannabis production in the United States. Weed farmers have been cultivating cannabis plants in the region since the 1960s. Growing cannabis is considered a way of life in the community, and much of the local economy is dependent on marijuana businesses. 
2. Medford & Klamath Falls, Oregon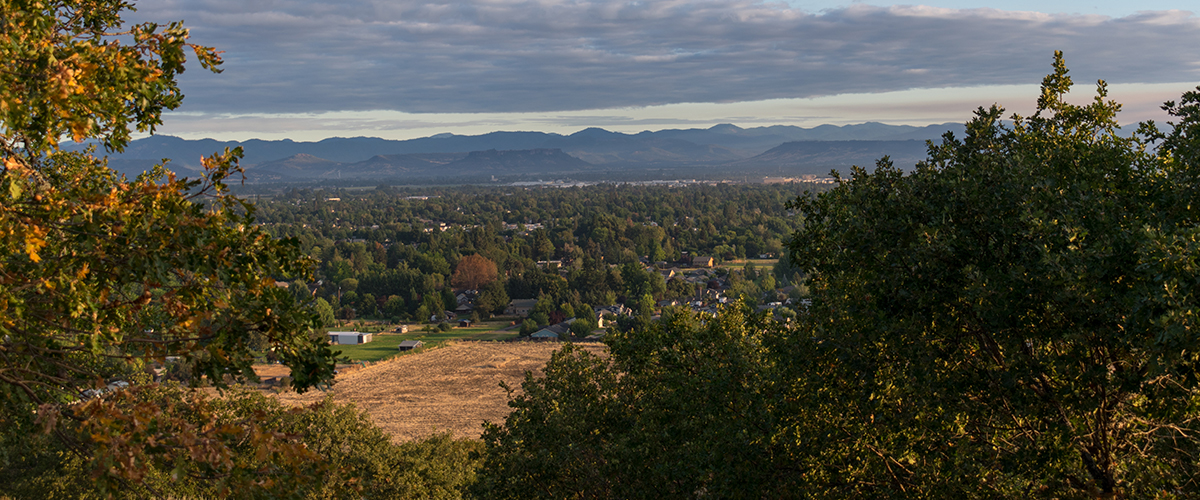 Medford and Klamath Falls are both located in southern Oregon, just over 20 miles from the border of California. The cities, which are 56 miles apart, have a combined population of approximately 104,000 people. Oregon is one of the most progressive states when it comes to marijuana legalization. It was the first state to legalize marijuana for recreational use in 2014, so it's no surprise to see this part of the country with a high interest in cannabis. The first medical marijuana dispensary in Oregon opened its door in 2014 in Gold Hill, a tiny town located just 12 miles from Medford. 
3. Sherman, Texas & Ada, Oklahoma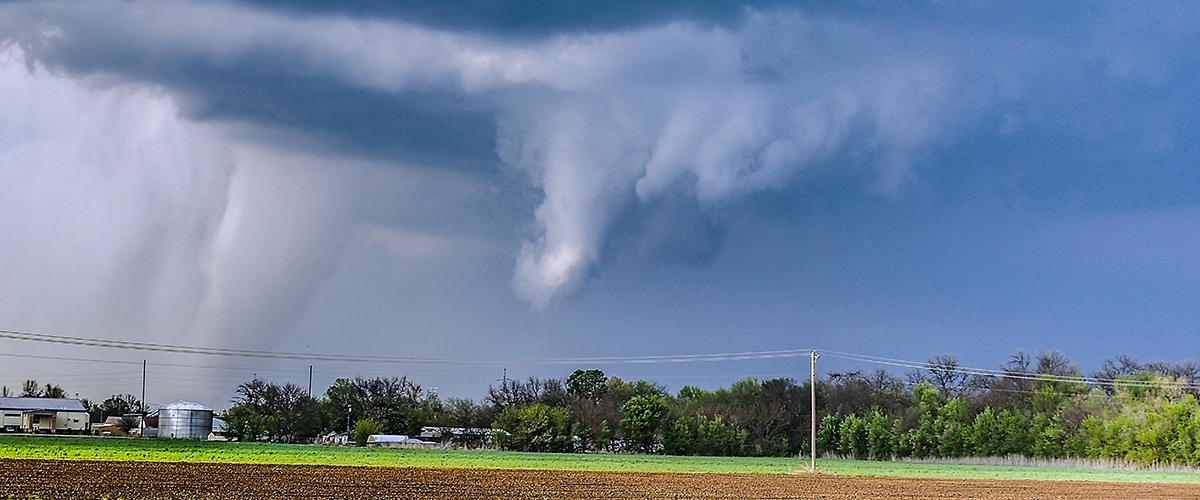 Sherman and Ada are separated by the border between northern Texas and southern Oklahoma. Both are close to Lake Texoma, one of the largest reservoirs in the United States. Sherman has a population of approximatey 42,000, while Ada is smaller with about 17,000 residents. Although locals from both metros have a high interest in cannabis, they both are located in states where marijuana consumption is restricted. In Texas, cannabis is legal in limited amounts for medical purposes. However, it's illegal for recreational use. In Oklahoma, medical marijuana was legalized in 2018.
4. Traverse City & Cadillac, Michigan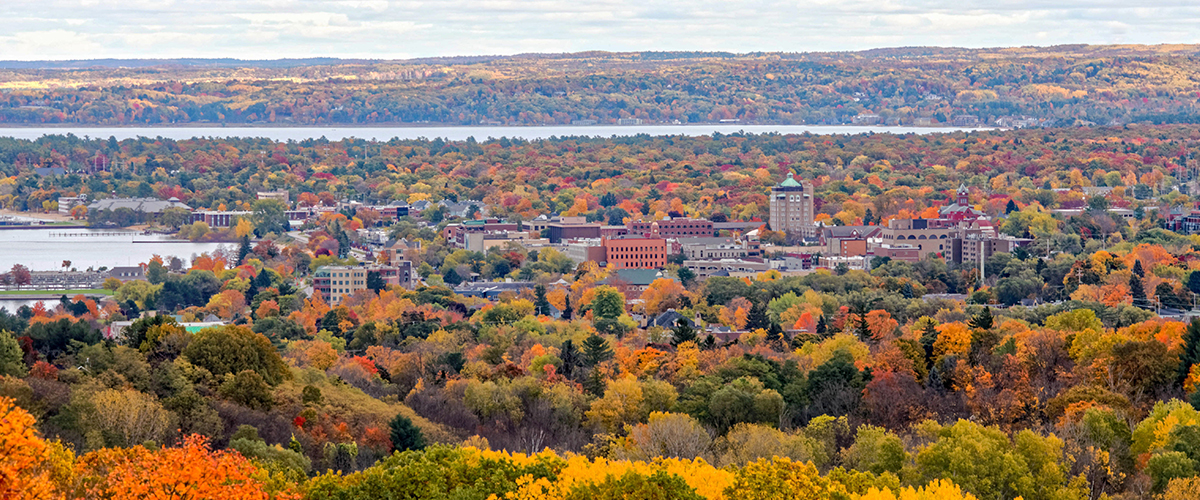 Traverse City and Cadillac are where you first start to get the "Up North Feel" in Michigan. Both provide access to the great outdoors including lakes, rivers, mountains, and forests. Traverse City is the largest city in Northern Michigan with a population of approximately 15,500. It's a popular tourist and retirement destination due to its proximity to Lake Michigan. Cadillac has around 10,500 residents. With the highest elevation in the state, it's known for its trails and ski hills. With Michigan voting in 2018 in favor of legalizing recreational marijuana, it's not surprising that this area has a high interest in cannabis. Retail sales are on track to begin Dec. 1, so residents are likely trying to get more acquainted with cannabis prior to the market's launch.

5. Tulsa, Oklahoma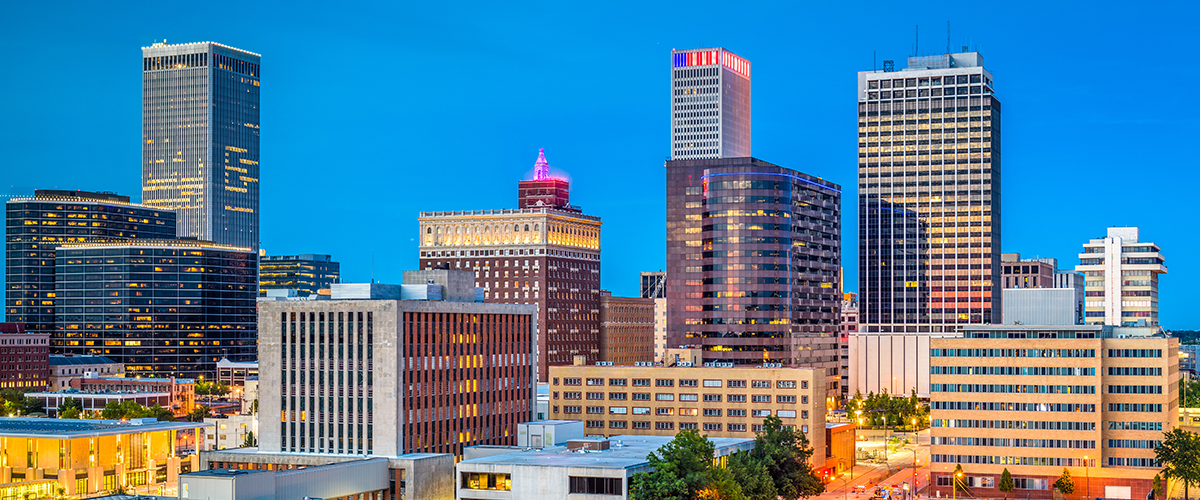 Located in northeastern Oklahoma, Tulsa is the second largest city in the state with just over 400,000 residents. Historically, Tulsa has been known for its energy resources. The city was nicknamed the "Oil Capital of the World" during the 20th century. Today, it has a much more diverse economy across different sectors. The art deco buildings in downtown are one of the defining features of the city. Since voters legalized medical marijuana in Oklahoma a year ago, more than 170 dispensaries have become licensed in Tulsa. CBD oil shops have also become increasingly popular in Oklahoma in recent years as more local residents seek out its health benefits.
6. Oklahoma City, Oklahoma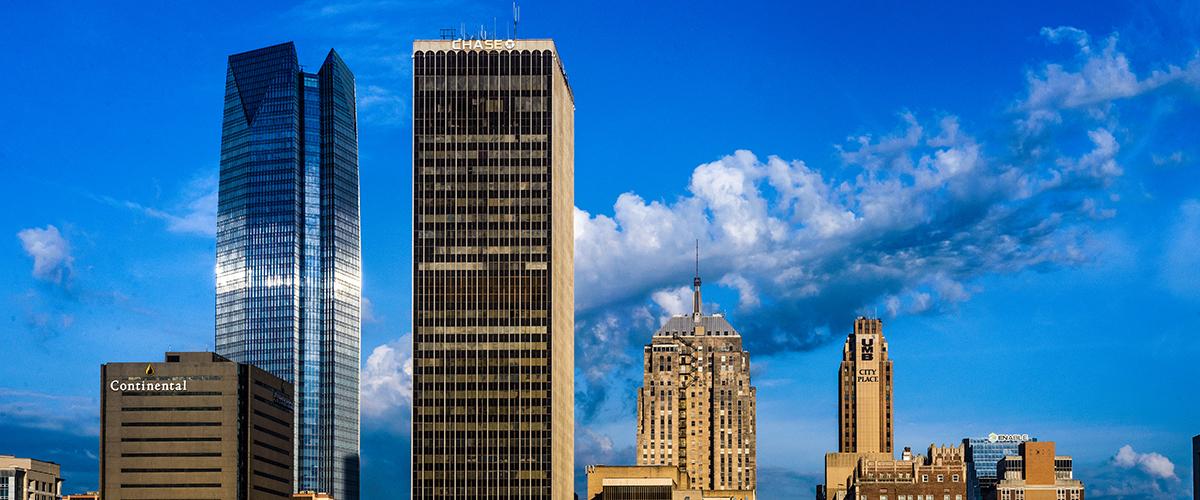 Oklahoma City is the capital and economic hub of Oklahoma. As of 2019, it has a population nearing 650,000 – making it the largest city to crack the top 10 rankings. It's rich in cowboy culture and has a diverse music scene that has produced stars in multiple genres. There are hundreds of licensed marijuana dispensaries currently operating in Oklahoma City, and the state's relatively new yet booming industry is generating interest from residents who perhaps only a few years ago had never considered incorporating cannabis into their health routine. High Times even brought its 'Cannabis Cup' event to Oklahoma City this year.

7. Bangor, Maine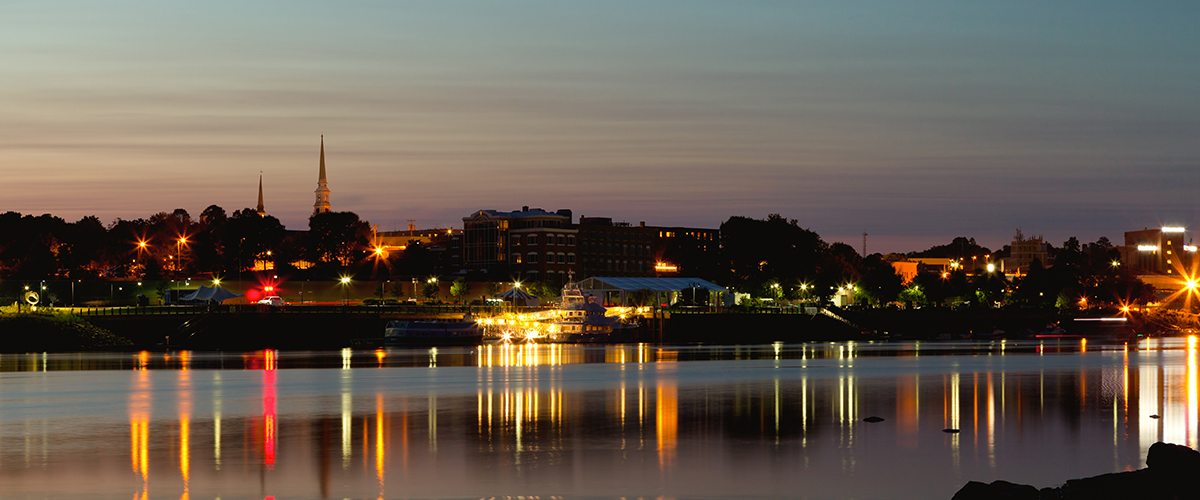 Bangor is a small city situated in northern Maine along the Penobscot River. The city proper has a population of approximately 33,000. Bangor was established as a limber and shipbuilding hub in the mid 19th century. In fact, a statue of Paul Bunyan is a famous local landmark that serves as a reminder of the city's historical roots. Today, Bangor is home to author Stephen King and hosts a variety of annual concerts and festivals along the city's waterfront. With medical and recreational marijuana legal in Maine, it's to be expected that a city in this part of the country would be interested in cannabis.
8. Grand Junction & Montrose, Colorado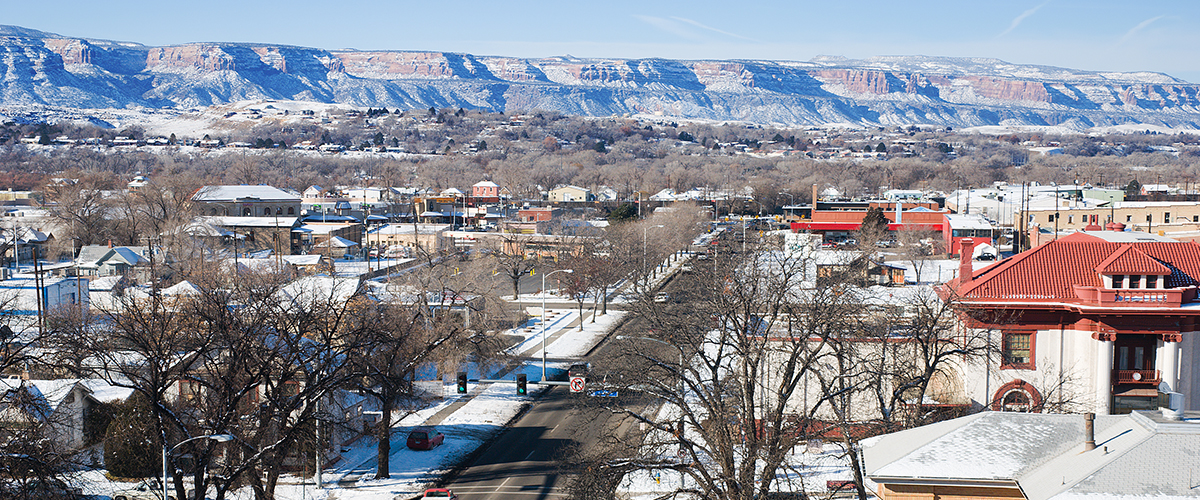 Grand Junction and Montrose are small towns located in the western Colorado near the border with Utah – with populations of approximately 62,000 and 19,500 respectively. Grand Junction is known as the hub of Colorado's wine country and an ideal spot to take advantage of outdoor activities at the Colorado National Monument. Montrose also has access to a variety of outdoor spots including the Black Canyon National Park to the east and San Juan mountains to the south. Colorado remains one of the most liberal states when it comes to views on cannabis.
9. Chico & Redding, California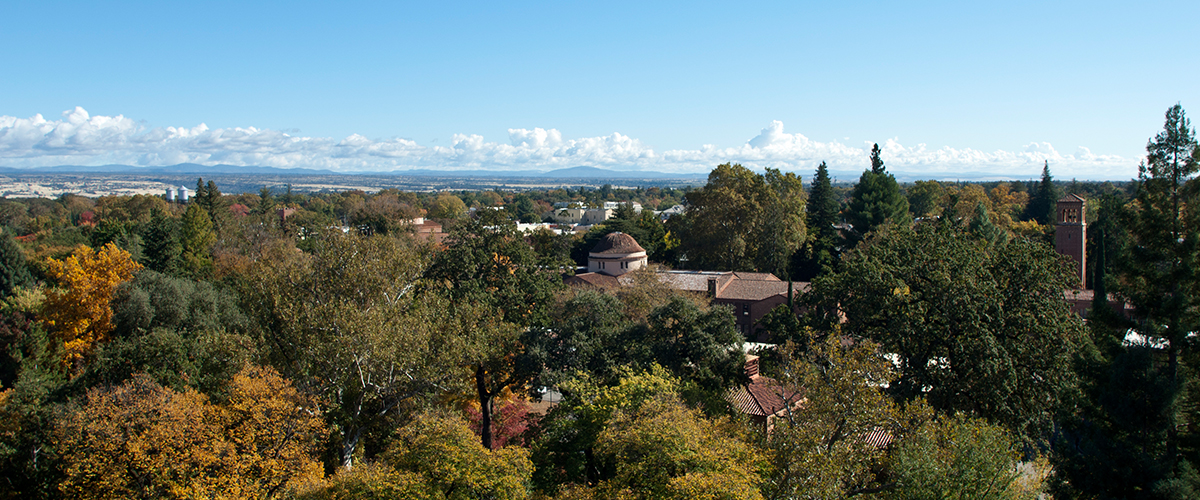 Chico and Redding are both located in Northern California. Chico is a small college town with a population of approximately 95,000. It's home to Cal State University Chico and Bidwell Park. Redding, by comparison, has approximately 92,000 residents. With mountains all around and close proximity to Lassen Volcanic National Park, it offers access to year round outdoor activities. Redding has been referred to as a "cannabis island" because it's the only community between Sacramento and Shasta Lake where legal cannabis is available.
10. Eugene, Oregon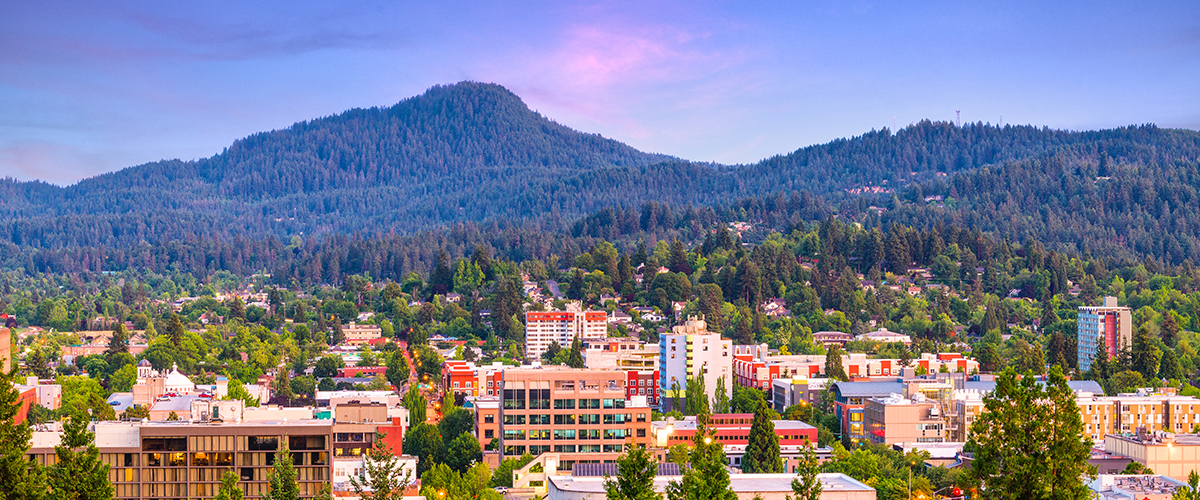 Located in the Willamette Valley, Eugene is the third largest city in Oregon with a population of over 171,000. It's home to several colleges including the University of Oregon and Northwest Christian University. Eugene is known for its outdoor recreation, natural environment, and commitment to the arts. In fact, the city's official slogan is "A Great City for the Arts and Outdoors". With a local hippie culture and liberal state laws towards cannabis use, it makes sense the community would make 10 on the rankings.
Conclusion
Of the top 10 metropolitan areas found to be searching the most for cannabis-related terms, seven are located in states that have legalized marijuana for both medical and recreational use.
Few places are as important to the nation's cannabis industry as parts of Northern California, so it's not surprising that areas like Eureka, Chico, and Redding, where cannabis is such a part of the local culture, landed among the top 10. Oregon was one of the first states to embrace legal recreational cannabis, so it's not unexpected to find areas like Medford and Klamath Falls ranked among the highest. And Eugene has become a destination point for outdoor-loving tourists interested in consuming cannabis while on vacation.
According to the data, however, strong interest in cannabis also expands to more historically conservative areas. Oklahoma is one of the newer states to embrace legal consumption for medical purposes, and it appears as though residents in Ada, Tulsa, and Oklahoma City have been curious about participating in their state's young but booming medical marijuana program.
The presence of Sherman, Texas among our top 10 findings will no doubt raise eyebrows. Marijuana laws in Texas are among the most strict in the U.S. Conservative lawmakers there have time and again opposed cannabis legalization, and there have been no signs that the state will step up to reform policies any time soon. But Sherman is part of the Texoma region of North Texas and southern Oklahoma, so the growing cannabis interest from residents there may be a response to the recent legalization of medical marijuana in Oklahoma.
The number of states that allow cannabis is rapidly growing. Nine states could vote on marijuana measures in 2020, which would prompt those least experienced in cannabis to search out information on the use of cannabis, its benefits, and where it's available to buy. The metropolitan areas most interested in cannabis could very well change in the coming years as residents in more conservative areas become more accepting of its use.
Methodology
In order to quantify the interest level in cannabis across U.S. cities, we developed a model using aggregated data from Google Trends. Google Trends is a platform that analyzes the popularity of Google search queries across different regions. Our goal was to determine which parts of the United States are searching online the most for cannabis topics.
Google Trends provides a Search Interest score for 210 metropolitan areas throughout the United States. These values are calculated on a scale from 0-100, where 100 is the location with the most popularity as a fraction of total searches in that location, a value of 50 indicates a location which is half as popular. A value of 0 indicates a location where there was not enough data for this term. The scores are relative. For example, a small city where 30% of the search queries are for "marijuana" will get double the score of a larger city where only 15% of the search queries are for "marijuana". 
Overall, we collected Search Interest scores at the metro level from the past 12 months for 61 keywords. This included the most common cannabis keywords such as "cbd oil", "hemp", and "how to grow weed". Only keywords that had data for at least 45 out of the 210 cities were included in the analysis. 
Each keyword was weighted in the model based on how many monthly searches it receives. For example, the keyword "blunt" receives 90,500 monthly searches on average, while the query "kush" receives 49,500. Therefore, "blunt" received a weight that was slightly less than double "kush" in the model. All monthly search volume metrics were pulled from CanIRank's keyword research tool.
Next, we multiplied the Search Interest score for all the cities by its weight for each of the 61 keywords. Then we calculated the Total Search Interest score (raw score) across all the different keywords by taking the average score for each city across all the keywords. The final score was standardized on a scale from 0-100 (normalized score).
Keywords with scores of 0 were not included in the model due to a lack of data for that specific term in a given metropolitan area. Only cities that had data for at least 20 out of the 61 keywords were included in the final analysis. For example, Glendive, Montana originally ranked third on the list. However, Glendive only had Search Interest data in Google Trends for three total keywords (weed, marijuana, and pot). It's important to note that Glendive is a small city with a population under 5,000. Therefore, Glendive is likely only going to have enough data for keywords that are popular in that geographic area.