American farmers have expanded hemp production to more than 128,000 acres, according to new data from the USDA.
Hemp production is making a huge splash in the American farm industry, according to the latest reports from the United States Department of Agriculture (USDA). Within the last year, the amount of acreage used to farm hemp leaped by 368 percent.
Due to its versatility and new access laws, domestic hemp production is on the rise. Industrial hemp soared from 27,000 acres in 2018 to 128,000 acres in 2019, becoming one of the fastest growing domestic crops by acreage, according to the USDA.
So far, at least 47 states in the country have enacted legislation to launch industrial hemp cultivation and production programs, according to the National Conference of State Legislatures (NCSL). In 2018 alone, six states, including Alaska, Arizona, Kansas, Missouri, New Jersey, and Oklahoma ratified legislation to create research and industrial hemp pilot programs.
Harvested for its stalks and seeds, hemp has thousands of product applications. Some of the many products hemp can be used to make include: hemp food, nutritional supplements, cosmetics, animal feed, hemp clothing, paper, construction materials, bioplastic, and biofuels. Hemp seeds are known to be a beneficial source of nutrients.
Hemp-derived cannabidiol (CBD) products are also in high demand. Unlike marijuana, hemp is naturally higher in CBD than tetrahydrocannabinol (THC) and is federally legal in the U.S.
The exploding hemp CBD market is causing a financial boom in the newly developed hemp market. A recent report by Grand View Research, Inc. predicts the global industrial hemp market size to reach $10.6 billion by 2025.
Reports from the Hemp Business Journal, show the 2017 U.S. hemp industry produced at least $820 million in revenues, with growth increase to more than $1 billion for 2018, and expect a 14% compound annual growth rate through 2022.
Hemp Newly Legal Thanks to the 2018 Farm Bill
The signing of the 2018 Farm Bill by President Donald Trump greatly impacted domestic hemp production. The new law lifted the longstanding ban on domestic commercial hemp production, expanding upon the 2014 Farm Bill from President Barack Obama that had allowed universities and state departments of agriculture to grow or cultivate industrial hemp for research and pilot programs.
The 2018 Farm Bill also had substantial implications on the legal status of commercially available hemp-derived CBD products. The bill's language removed hemp from the list of Schedule I controlled substances, therefore clarifying the legality of the manufacturing and selling of hemp-derived products like CBD oil, and permitting legal interstate commerce.
The bill also placed the Food and Drug Administration (FDA) in charge of regulating hemp-derived products. FDA officials are currently reviewing how hemp-derived CBD products should be regulated, and have announced they will publish their report sometime this fall.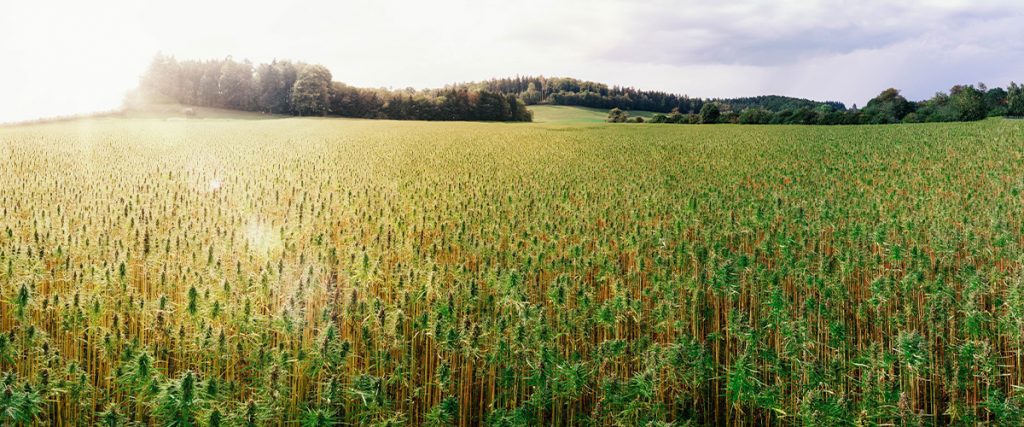 Hemp in America
The hemp boom in present day North America is not the first of its kind. Hemp has a long history in Colonial America, with the first recorded use in 1632. The Virginia Assembly mandated "that every planter as soone as he may, provide seede of flaxe and hempe and sowe the same."
Records from the 17th and 18th centuries show courts in Massachusetts and Connecticut passed similar hemp mandates encouraging farmers throughout the American colonies to grow and process hemp. For more than 200 years, hemp was even used as a legal tender and used to pay taxes.
Keeping an Eye on Cannabis
Learn more about the basics of hemp, or visit our news page to learn more about what's happening with cannabis in politics, business, and scientific research.