The hearing regarding the need to provide financial services access to the cannabis industry was called by Republican Chairman Mike Crapo, who previously impeded cannabis reform.
The United States Senate Committee on Banking, Housing, and Urban Affairs will hear testimony Tuesday on marijuana business banking reform. It will be the first such hearing to be held in the U.S. Senate.
The announcement of the hearing is the most recent sign of the growing interest major marijuana reform among Members of Congress. Committee Chair Senator Mike Crapo (R-ID) previously opposed any type of marijuana reform and even refused to hold a hearing on banking for the cannabis industry in April.
Idaho, Crapo's home state, has some of the strictest marijuana prohibition laws in the country.
"On the legislative front, it is evident that the politics of cannabis is undergoing a transformation that is almost unparalleled in Washington," said Janet Seiberg, an analyst with the investment bank and financial services company Cowen & Co. "This has gone from an issue that Capitol Hill did not take seriously to one that is driving legislation and elections, and this all happened in the last two years."
U.S. Sens. Jeff Merkley (D-OR) and Cory Gardner (R-CO) will be key witnesses testifying in favor of the Secure and Fair Enforcement (SAFE) Act, which would allow banks to provide financial services to marijuana-based businesses operating in compliance with state law. John Lord, the CEO of LivWell Enlightened Health and Chairman of the Cannabis Trade Federation, will also testify on behalf of marijuana banking reform.
In addition, Joanne Sherwood, President and CEO of Citywide Banks, and Rachel Pross, Chief Risk Officers of Maps Credit Union will be called to testify along with Garth Van Meter, Vice President of Government Affairs for Smart Approaches to Marijuana (SAM) an anti-legalization organization.
"Congress must amend federal policy so that these growing numbers of state-compliant businesses, and those millions of Americans who patronize them, are no longer subject to policies that needlessly place them in harm's way," said NORML Deputy Director Paul Armentano.
Many cannabis-based businesses currently have a difficult time operating in today's electronic age without traditional banking services. Thus, many have to do business entirely in cash which makes processing payroll and paying taxes difficult. Keeping that much cash around also poses a great security risk.
Banks have been hesitant to do business with them because under federal prohibition, it is seen as aiding a criminal organization, even if the businesses are operating under the strict state legalization guidelines. Recent data, however, indicates that a growing number of banks are willing to service cannabis businesses.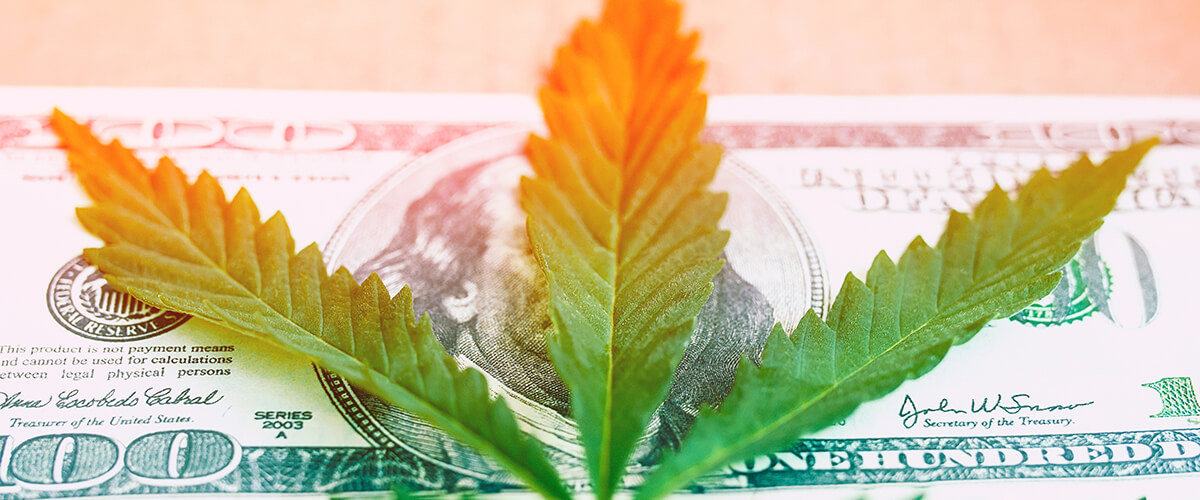 Playing Politics
While the U.S. House passed the SAFE Act out of the corresponding Financial Services Committee, the bill has yet to be put up for a vote in the full House, despite having bipartisan support. Advocates would like to see it passed before Congress goes on recess for August.
The bill now has 200 sponsors and only needs 218 votes to pass the House. The Senate version has 31 sponsors.
The Senate poses a more difficult challenge for reform, however, because one senator can theoretically block the measure nearly indefinitely. While Republicans have warmed to marijuana reform due to growing public support and the potential financial boom the industry can bring, the party has not yet indicated its leadership will give reform more than tepid support.
Still, there is a great deal of bipartisan support for the SAFE Act across the country. Banking associations in all 50 states and a long list of officials, including governors, the majority of state attorneys general, as well as the National Association of State Treasurers, have publicly announced their support. Legal marijuana banking would reportedly provide the federal government savings of $4 million over a 10-year period.
More on Cannabis News
To learn more about what is happening in cannabis legislation and criminal justice reform, check back in to our news page.