The small-town mayor and Democratic presidential candidate has called for major drug and criminal justice reform.
Democratic presidential candidate Pete Buttigieg, the mayor of South Bend, IN, has released a plan to legalize marijuana at the federal level and cut the United States prison population in half.
Buttigieg's plan, presented on July 11, is designed to address the impact of the decades-long War on Drugs on minority and disadvantaged communities. Named after 19th century civil rights figure Fredrick Douglas, the Douglass Plan would legalize marijuana federally, expunge past convictions for small-time offenses, reduce drug offense sentences, and eliminate jail time for possession.
Buttigieg notes that Black Americans are four times more likely to be arrested for marijuana possession, despite equal rates of use.
I'm proud to share with you the Douglass Plan, our proposal for comprehensively and intentionally dismantling racist structures and systems, fueled by an investment of unprecedented scale in the freedom and self-determination of Black Americans: https://t.co/J35lpGfAry

— Pete Buttigieg (@PeteButtigieg) July 11, 2019
Buttigeg's plan also calls for a 50 percent reduction in the U.S. prison population, the world's largest.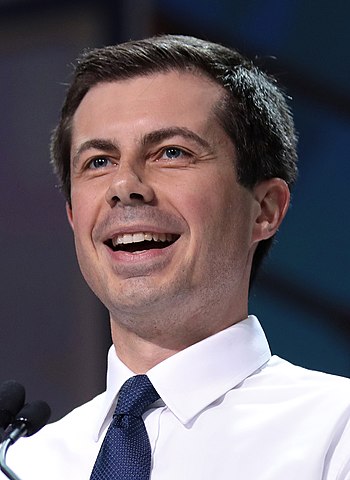 "We can do it by legalizing marijuana and eliminating incarceration for simple drug possession," he said during a speech at the Rainbow PUSH Coalition Convention earlier this month. "We can do it by abolishing private federal prisons and putting an end to petty fines and fees that criminalize poverty."
The success of Buttigieg's criminal justice reform efforts is contingent on having federal action influence the state level, as most prisoners are held in state facilities.
The Douglass Plan also calls for dedicating funding to historically Black colleges and universities, mandates that a quarter of federal contract dollars are awarded to minority-owned businesses, and invests more into minority-owned banks.
Presidential 420 Politics 
Buttigieg has historically been quiet about his views on marijuana. In addition, as mayor Buttigieg has had a rocky relationship with his city's African American community, and his administration has been criticized by some for furthering systematic racism. At a community meeting in June, he was met with boos by some Black audience members.
Pundits have noted that most Black voters have been indifferent to where Peter Buttigeg stands on marijuana. He is polling 0 percent among Black Democratic voters.
Buttigieg's more vocal views on marijuana could help bring more attention to his presidential campaign as he struggles to differentiate himself in a crowded field.
With few exceptions, most of the Democratic presidential candidates are in favor of legalization. The only notable candidate opposed is former Vice President Joe Biden. The other serious contenders are in favor of ending prohibition.
Fellow presidential hopeful U.S. Sen. Cory Booker (D-NJ) has been campaigning as an ardent foe of the War on Drugs. His criminal justice plan relies heavily on executive authority rather than pushing a bill through Congress. Booker wants to pardon 17,000 federal inmates convicted of marijuana possession by executive order his first day in office. Booker is a long-time champion of drug reform.
Sen. Kirsten Gillibrand (D-NY), also running for president, unveiled a plan that would legalize marijuana and pardon many of those previously convicted. Gillibrand's plan is unique in that it requires health insurance companies to cover medical marijuana.
More Cannabis News
Check back in for the newest reports on cannabis research, business and politics on our news page.