Senator Kirsten Gillibrand's marijuana plan advocates for criminal justice reform and medical marijuana insurance coverage.
U.S. Senator Kirsten Gillibrand has released her presidential plan for nationwide marijuana reform. In it, Gillibrand  (D-NY) details her intention of legalizing marijuana on a federal level, clearing records tarnished by non-violent marijuana convictions, and requiring medical marijuana coverage by insurance companies.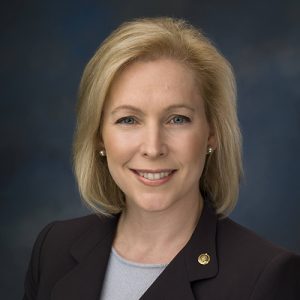 The New York Senator released her marijuana reform plan June 5 on Medium, an online publishing platform devoted to sharing information on technology, business, politics and more. Gillibrand cut straight to the point in her public post, stating, "America's federal prohibition of marijuana needs to end now" and that it will be "a top priority" if she is elected president.
"As president, I will immediately deschedule marijuana as a controlled substance, and start working to not only heal the damage done by racist drug laws, but also tap into the medical and economic opportunity that legal marijuana offers," Gillibrand stated in the post.
U.S. Senator Kirsten Gillibrand's Marijuana Legalization Plan
Gillibrand's marijuana plan addresses major topics in the cannabis industry as well as advocating for social justice reform. Her plan includes:
Creating a national standard for clean, safe, and sustainable marijuana production.
Sealing all non-violent marijuana convictions and restoring all civil rights, including the right to vote, to those prosecuted.
Requiring all health insurance plans, including federal programs such as Medicare, Medicaid and health care services for veterans, to provide medical marijuana coverage.
Ending recreational cannabis prohibition nationwide and passing an excise tax which will create revenue for programs in areas that were disproportionately damaged by the war on drugs.
Allowing cannabis-related businesses access to banking.
Creating economic equity and justice through marijuana-specific programs prioritizing women-owned and minority-owned small businesses.
In the post's conclusion, Gillibrand stated it was "long past time" to start making attempts to undo the devastation of the past done by marijuana prohibition.
"With this plan, we can begin to dismantle the institutional racism in our criminal justice system, open up important new medical and economic horizons, and lift up communities who need and deserve a fair shot at opportunity," she stated.
A state-by-state patchwork isn't enough to tackle the deeply rooted racial, social, and economic injustices within our marijuana laws, or to unleash the economic equity and opportunity of marijuana legalization. Let's fully legalize marijuana nationwide. https://t.co/iVfVHvQeWZ pic.twitter.com/crmAhs7IzV

— Kirsten Gillibrand (@SenGillibrand) June 5, 2019
Sen. Kirsten Gillibrand on Marijuana Reform
Sen. Gillibrand has a track record of publicly voicing her support for marijuana reform during her time in office. Medical Marijuana, Inc. reported on the prominent Senator's pro-cannabis stance after a 2018 appearance on Good Day New York, when Gillibrand called out pharmaceutical companies for not supporting the legalization of marijuana.
Gillibrand co-sponsored a bill, the Marijuana Justice Act, with Sen. Cory Booker to end federal prohibition on marijuana. She also joined seven other senators sending a letter to former Attorney General Jeff Sessions demanding answers on the status of applications to grow marijuana for scientific research.
Gillibrand is one of more than 20 candidates aiming for Democratic nomination in the upcoming election. She joins the race with an abundance of pro-cannabis candidates. To find out more about the 2020 candidates and their position on marijuana reform, visit our 2020 Presidential Candidates On Marijuana Election Guide.
More Cannabis News
To find out more about cannabis news in politics, science, and business visit our news page.