The number of female cannabis consumers is on the rise, with most using the plant to address stress, anxiety, sleep problems, and pain.
Women are embracing marijuana more than ever before. While a stigma around cannabis consumption still exists, especially for women, a growing number are comfortable with marijuana use and are embracing its benefits for health and wellness.
Here we discuss how women are not only increasingly embracing cannabis for its natural benefits, but also making their mark in the legal cannabis industry as consumers.
Women's Growing Support for Marijuana
Historically, there has been a peculiar gender gap when it comes to support for marijuana legalization. While women are generally more liberally minded on many issues, they have been slower to embrace cannabis reform than men, potentially because of stronger religious beliefs.
As a growing number of women are embracing marijuana, that gender gap in support for marijuana reform is narrowing. Today, 61 percent of women in the United States support marijuana legalization, compared to 44 percent in 2012.
Cannabis consumption among women is also on the rise. While in the past men have dominated the cannabis consumption crowd, women are enjoying cannabis and its benefits at higher rates than before. One-third of women in the U.S. have used adult use marijuana at least once in their lives, according to a recent Quinnipiac University Poll. A 2017 report from the Cannabis Consumers Coalition (CCC) even suggests that more than half of all cannabis consumers in the country are women.
Women are not only more open to using cannabis, but they're also increasingly incorporating it into their everyday health routine. According to the New Frontier 2018-2019 Cannabis Consumer Report, more than half of women who are cannabis consumers use it at least once per week.
Some women, however, remain hesitant to discuss their consumption of cannabis for fear of being judged by others. A recent survey from Seattle-based publication Van der Pop found that 70 percent of women believe there is a lingering stigma around cannabis use, and 66 percent are compelled to hide their usage. Those concerns are expected to lift, however, as expanding education and more mainstream products further normalize cannabis.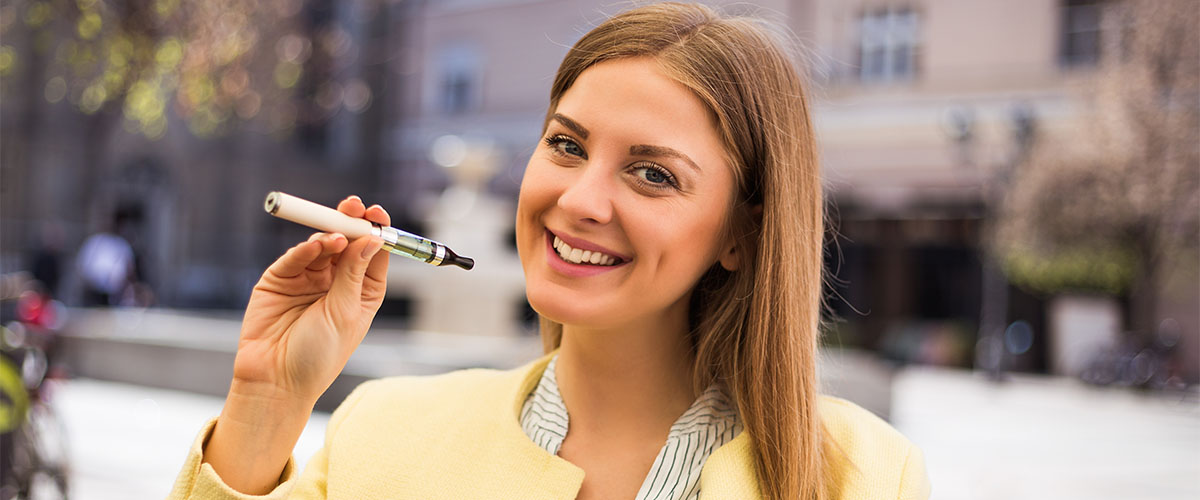 Why Women are Using Cannabis
A major reason why women are more supportive of legalizing marijuana is a growing understanding of the medicinal benefits it can offer. Education on cannabis and its wide range of therapeutic potential is changing attitudes of everyone, including women.
Women tend to use cannabis for different reasons than men, however. While both men and women will use marijuana "to relax and enjoy social experiences," according to consumer data provided by New Frontier, women are significantly likelier to use cannabis to reduce stress (45 percent), relieve anxiety (38 percent), manage pain (31 percent), improve their sleep quality (35 percent), and curtail nausea (14 percent).
Women are also increasingly turning to cannabis for symptoms and health issues related to gynecological health, including menstruation, menopause, and to naturally boost sexual health. The Van der Pop survey, mentioned earlier, found that one in 10 women were using cannabis to enhance their sex life.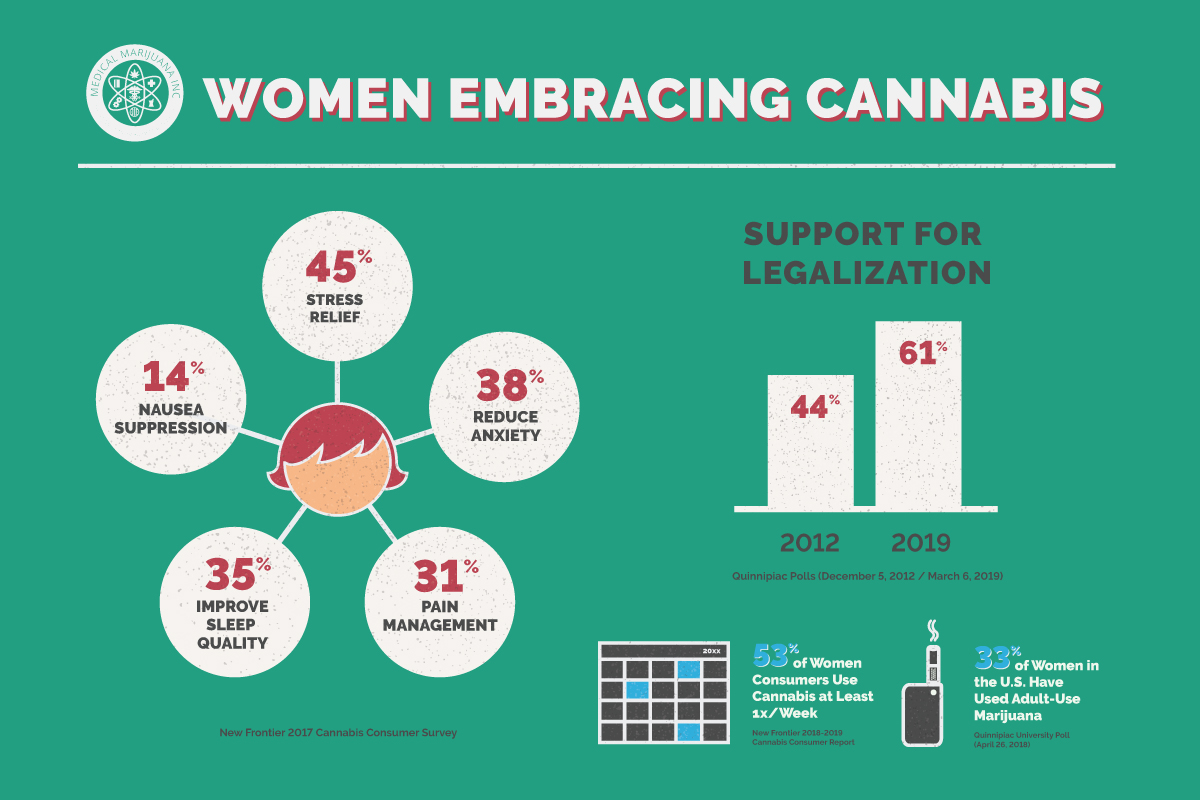 Spending Power of Women in the Cannabis Market
As the cannabis industry grows and attitudes on cannabis evolve, women will play an even larger role in shaping the medical and recreational cannabis market, as consumers and spending influencers.
Women drive 70 to 80 percent of all consumer spending in the U.S. through their buying power and by influencing the purchases of others. That spending power of women more than likely extends to the legal cannabis market, which is projected to grow to $25 billion by 2025.
Women's impact on the marijuana industry is already being revealed in states where cannabis has been made legal. In California, the total number of women buying cannabis nearly doubled in 2018 from the year before, according to a recent report from online marketplace Eaze. Their report, which drew on data from 450,000 customers and 4,000 survey respondents, found that women now make up 38 percent of all cannabis consumers.
Women and their cannabis preferences are already influencing products in the market. With their emphasis on cannabis being used for wellness, women consumers are encouraging more health-friendly products and consumption methods, such as vaping dry flower or cannabis oils with a vaporizer, dabbing CBD isolate, or as the Eaze report suggests, cannabis edibles, drops, and topicals.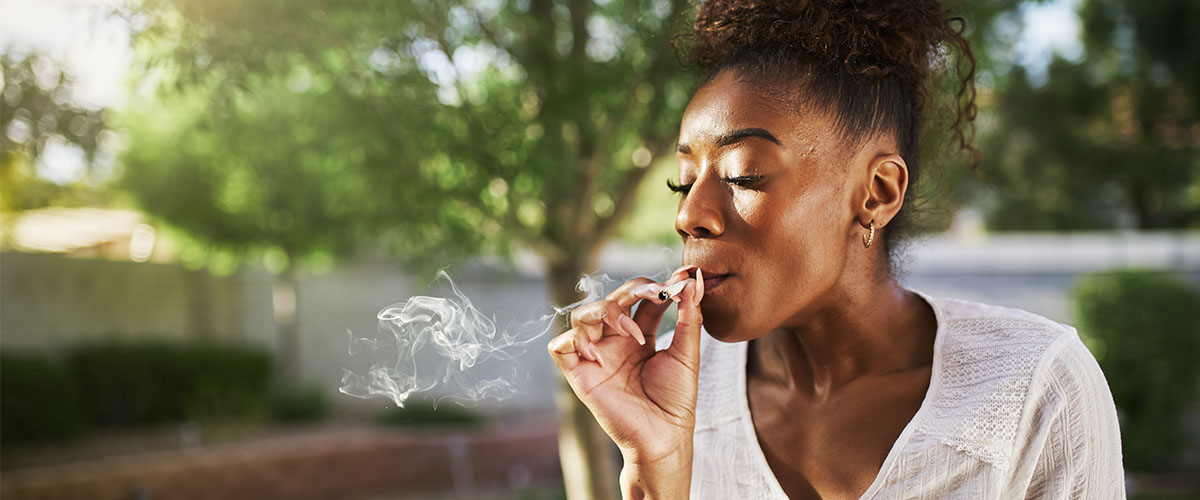 More on Women and Cannabis
As state and federal laws continue to shift toward legalization and the social stigma surrounding cannabis wanes, women will continue to be at the forefront of the cannabis industry's growth, as leaders, lawmakers, and consumers.
Learn more about where cannabis is legal and the therapeutic benefits it can provide both women and men by visiting our education page. You can also keep up with the growing cannabis industry through our news feed, or by connecting with us on Facebook and Twitter.