The acreage of hemp growing in the U.S. tripled in 2018 and is expected to continue to grow with the recent passing of the Farm Bill.
Hemp acreage in the United States more than tripled in 2018 and will likely continue to surge now that the 2018 Farm Bill has eliminated any legal ambiguity, according to hemp advocacy group Vote Hemp.
In its recently published 2018 U.S. Hemp Crop Report, Vote Hemp estimates that acres of hemp planted reached 78,176 in 2018 across 23 states, a more than 200 percent jump over 2017. In 2017, hemp acreage increased 163 percent over 2016, reaching nearly 26,000. In 2016, nationwide hemp acreage was under 10,000.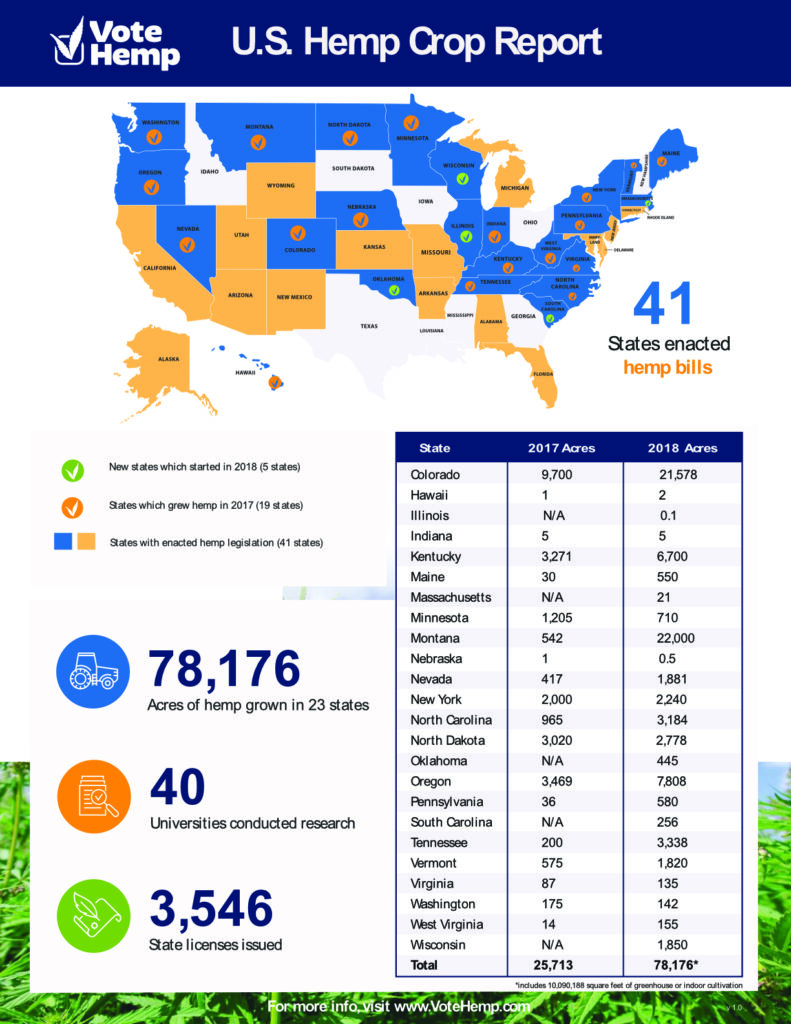 Five states started growing hemp in 2018, including Illinois (0.1 acre), Massachusetts (21 acres), Oklahoma (445 acres), South Carolina (256 acres), and Wisconsin (1,850 acres). In total, 41 states have passed policies removing barriers to hemp production. Out of all 23 states actively growing in 2018, Montana led the way with 22,000 acres of hemp grown, a 4,000 percent increase from 2017.
While those are impressive gains, the hemp advocacy group believes another massive surge can be expected in 2019, as the passing of the 2018 Farm Bill in December opened the door to nationwide hemp production, and made hemp farmers eligible for crop insurance, farm loans, and other federally backed farm assistance programs.
"We've seen hemp cultivation significantly expand in the U.S. in 2018, with over triple the number of acres planted in hemp compared to last year and the addition of 4 more states with hemp programs," Eric Steenstra, President of Vote Hemp, said in a statement. "Now that we have lifted federal prohibition on hemp farming, it's time to invest our energy in expanding hemp cultivation and the market for hemp products across the country so that all can reap the benefits of this versatile, historic American crop."
The hemp provisions in the latest Farm Bill remove the crop from the Controlled Substances Act and reclassify it as an agricultural commodity. Previously, hemp cultivation was limited to state-level policies authorizations for universities to cultivate the crop for research purposes only. With the groundbreaking change, U.S. farmers can now grow, process, and sell the plant commercially.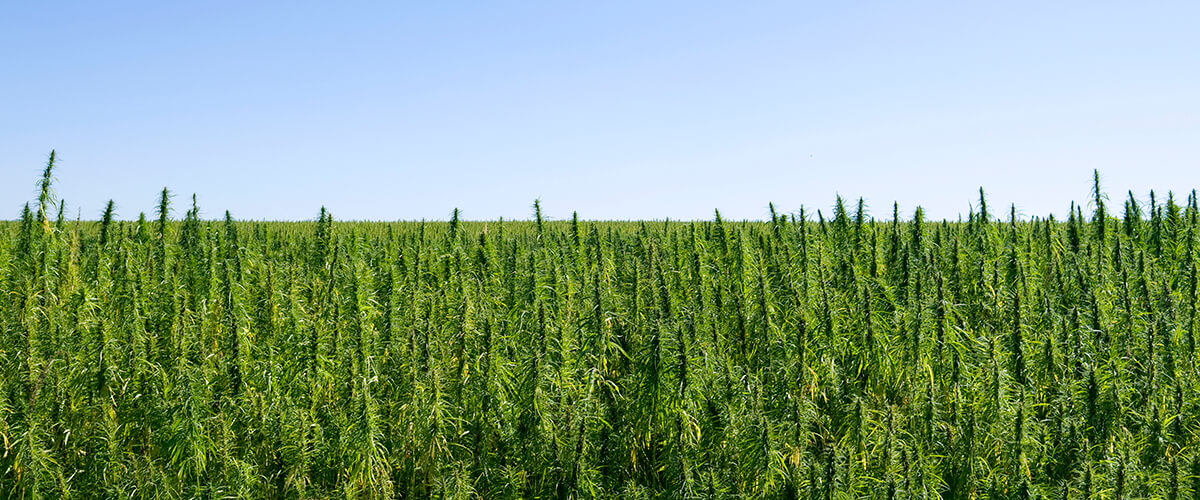 Impact of CBD Demand
Hemp's expected surge is driven by the growing demand for hemp-derived cannabidiol (CBD) products, which have gained substantial recognition for their natural balancing properties. Hemp-derived CBD sales are projected to rise to $22 billion by 2022, according to the Brightfield Group.
"Sales of hemp products have been growing at a double-digit pace for several years and demand for CBD has been phenomenal," Steenstra told Marijuana Moment. "Now that hemp has been removed from the Controlled Substances Act, we expect demand for American hemp to continue to increase and project that at least 125,000 acres of hemp will be planted nationally in 2019."
Defined as cannabis that contains no more than 0.3 percent of tetrahydrocannabinol (THC), hemp has more than 25,000 product applications. According to Vote Hemp, in the U.S. hemp is also showing market potential in product applications outside of CBD oil and food products, including environmentally-friendly packaging materials and bio-plastics.
Learn More About Hemp
Vote Hemp's latest Hemp Crop Report reveals the ongoing and inevitable rise of the hemp industry in the U.S. You can learn even more about hemp and CBD through our CBD Oil Education Page, and keep up with growing industry through our news page.