Patients who are prescribed opioid drugs will now be able to register to obtain legal medical cannabis instead.
Illinois Gov. Bruce Rauner yesterday signed into law a landmark bill that will make medical marijuana available to patients prescribed opioid painkillers.
The Alternatives to Opioids Act (SB 336) allows doctors to authorize medical marijuana for any patient qualified for a prescription for opioids like Vicodin, OxyContin, or Percocet.
While Rauner has historically been reluctant on cannabis and hesitant to expand the state's medical marijuana program, he believes the new law will help combat the opioid epidemic. Opioid overdoses claimed the lives of nearly 2,000 people in Illinois in 2016, and an estimated 72,000 people nationwide last year.
"Opioid abuse disorder is taking the lives of Illinoisans, thousands of lives. Opioid abuse disorder is disrupting and destroying families across our state and across the country," Rauner said as he signed the bill into law. "We've got to do everything we can to stop this vicious epidemic, and today, I'm proud to sign a bill that helps us stop this epidemic."
Rauner also cited "clear evidence" that opioid overdose deaths are reduced in areas where medical marijuana is legally available for pain management.
"It's clear that medical marijuana treats pain effectively, and is less addictive and disruptive than opioids," he added.
Rauner signed the bill at the Chicago Recovery Alliance, a nonprofit organization that runs programs designed to prevent deaths from heroin overdose.
We have a new weapon against opioid abuse. Medical pros can now prescribe cannabis instead of opioids for pain management. Science wins again. Substantial evidence that cannabis produces clinically significant reductions in pain symptoms. Signed SB 336. pic.twitter.com/B2vTJgz1Jl

— Governor Rauner (@GovRauner) August 28, 2018
The new law also eliminates fingerprint and background check requirements for those applying for the state's medical marijuana program, effective immediately. It will also make it easier for patients to apply for the program online, and allow them to obtain a temporary receipt that they can take to a dispensary to obtain cannabis while their application is under review.
All of the law's other new rules will take the state until December 1 to implement.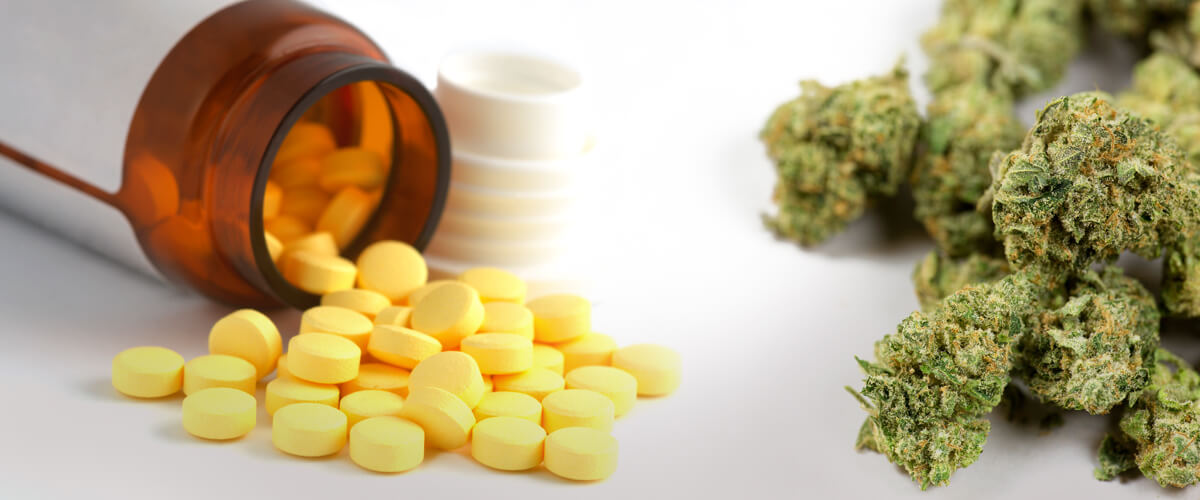 Cannabis in Illinois
Illinois is one of 30 states in the U.S. to legalize the use of marijuana for medical purposes. Its medical marijuana law, the Compassionate Use of Medical Cannabis Pilot Program Act, took effect January 2014.
Patients approved for the program can purchase and use up to 2.5 ounces of marijuana over a 14-day period.
While Illinois has one of the most restrictive medical marijuana programs in the nation, it has authorized about 42,000 patients. The new law is expected to significantly increase the number of patients that qualify for medical cannabis.
Illinois' pilot medical marijuana program is set to expire July 2020. It will need to either be renewed or replaced by lawmakers to be continued.
While state lawmakers have proposed legalizing recreational marijuana, Rauner, who is up for reelection this November, reiterated at the signing of the new bill that he is opposed to such a move. The Democratic candidate for governor, J.B. Pritzker, supports the recreational marijuana legalization measure.
Earlier this week, Rauner signed into law the Industrial Hemp Act to lift restrictions on the production of industrial hemp in Illinois.
Learn More About Medical Marijuana
You can learn more about cannabis, including its benefits for pain and how it can possibly play a role in solving the opioid crisis in America, by visiting our education page. Keep up with the latest cannabis developments through our news page.