The hemp bill allows licensed farmers to cultivate hemp for commercial use.
Illinois Gov. Bruce Rauner over the weekend signed a bill that allows licensed farmers to cultivate hemp, adding to the growing number of states to legalize the non-intoxicating variety of cannabis.
The Industrial Hemp Act (Senate Bill 2298) lifts restrictions on the production of industrial hemp in Illinois, effective immediately. It also amends Illinois' Noxious Weed Act and Cannabis Control Act by removing hemp, and creates a state licensure program through the Department of Agriculture.
Hemp products are already legally available to buy and sell in Illinois, but farmers couldn't grow the versatile crop because of cannabis's status under federal law. President Barack Obama opened the door for states to allow hemp cultivation when he signed into law the 2014 Farm Bill, which included a provision that allows states to legalize the growing of hemp for research purposes and pilot programs. A majority of states have already taken advantage.
"Legalizing the farming of industrial hemp just makes good sense," said Rauner, in a statement. "Roughly 38 states — including our neighbors in Wisconsin, Kentucky, Indiana, Missouri and Tennessee — have allowed or are considering allowing cultivation of this crop for commercial, research or pilot programs. Our farmers should have this option as well."
Hemp can be used to make more than 25,000 products, ranging from cannabidiol (CBD) supplements and health food to textiles, building materials, and biofuel. The Cannabis Sativa L. plant contains only trace levels of tetrahydrocannabinol (THC), the intoxicating compound associated with marijuana.
The hemp legalization bill passed the Senate with a 56-0 vote before passing the House 106-3. State Rep. Tim Butler (R-Springfield), a chief co-sponsor of SB 2298, praised Rauner's signing of bill, citing his understanding of "the importance of agriculture to the Illinois economy."
"The production of industrial hemp has broad support among our farmers and rural families, as they know this will add another potentially significant crop that can be grown in our state," said Butler. "In the early 20th century, Illinois was a national leader in hemp production and I look forward to us returning to that position."
Advocates claim that legalizing hemp will create hundreds of jobs and up to $100 million in annual state revenue, reports the Chicago Sun Times.
The Illinois Department of Agriculture has 120 days to write rules for the licensing procedure. They will also establish rules for THC-level testing.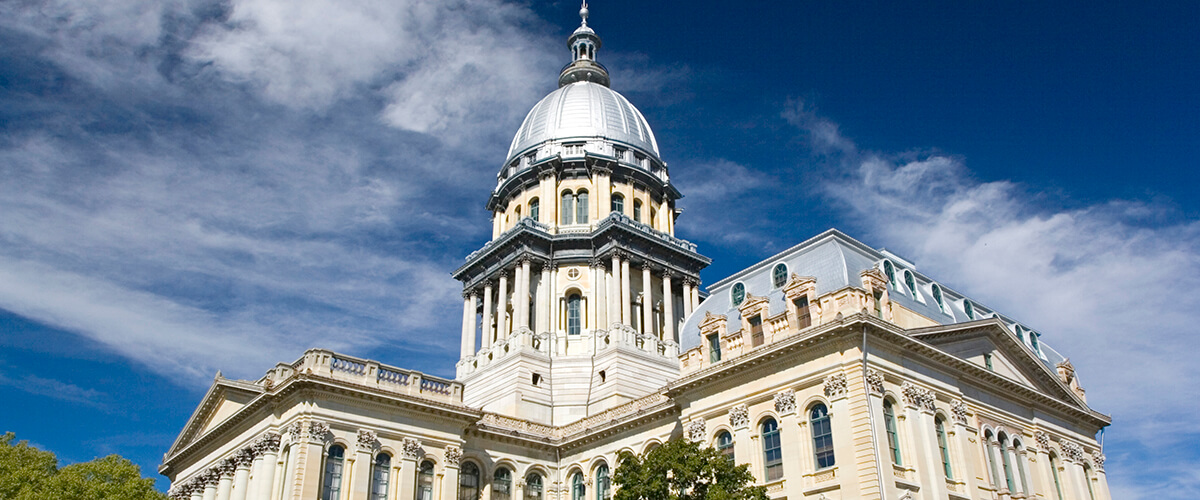 Cannabis Expansion in Illinois
Illinois has increasingly embraced cannabis over recent years. State lawmakers legalized medical marijuana in 2013, allowing patients with a recommendation from a doctor to obtain and use up to 2.5 ounces of marijuana over a 14-day period.
Gov. Rauner has supported expanding the state's medical cannabis program in the past, and is currently considering the Alternatives to Opioids Act (Senate Bill 336), which would allow physicians to provide patients with medical cannabis cards in place of prescriptions for opioids.
The governor also signed into law a measure last summer that decriminalizes the possession of small amounts of marijuana. Lawmakers have discussed legalizing adult use marijuana to help address the state's budget issues, and polls indicate that two-thirds of Illinoisans are in favor of such a move.
Keep Up With Cannabis News
You can learn more about cannabis laws in Illinois and throughout the U.S. by visiting our education page. Keep up with the latest developments in the cannabis industry, including cannabis laws, through our news page.