Results from a new mice study may explain why marijuana controls and prevents intestinal inflammation.
A new animal study from researchers at the University of Massachusetts Medical School and the University of Bath for the first time offers an understanding of how cannabis effectively controls and prevents symptoms related to inflammatory bowel disease (IBD).
IBD is a term used to describe a group of chronic inflammatory diseases that impact the digestive tract. Affecting millions of people around the world, these gut disorders are caused by the body's own immune system mistakenly attacking the lining of the intestines. The two types of IBD include ulcerative colitis, which occurs in the large intestine and the rectum, and Crohn's disease, which can affect any part of the gastrointestinal tract.
While patients with IBD have long reported symptom relief from cannabis, a new study published in the The Journal of Clinical Investigation appears to have figured out the mechanisms behind marijuana's therapeutic benefits.
"There's been a lot of anecdotal evidence about the benefits of medical marijuana, but there hasn't been a lot of science to back it up," said Beth A. McCormick, PhD, vice chair and professor of microbiology & physiological systems at UMass Medical School.
"For the first time, we have an understanding of the molecules involved in the process and how endocannabinoids and cannabinoids control inflammation. This gives clinical researchers a new drug target to explore to treat patients that suffer from inflammatory bowel diseases, and perhaps other diseases, as well."
McCormick and her colleagues discovered that gut inflammation is regulated by two important processes. The first process, already identified in previous studies, involves an aggressive immune response that destroys dangerous pathogens but if left unchecked also damages the intestine lining.
The second process, identified for the first time in this study, involves special molecules that enter the gut's lining to turn off that aggressive inflammation response. This process, the researchers found, requires an endocannabinoid.
Endocannabinoids are cannabinoid-like compounds that are naturally produced by the human body. If the endocannabinoid is unavailable, the inflammatory response is able to continue without being properly regulated. Unchecked, the body's immune cells attack the lining of the intestine, leading to IBD.
Cannabis contains more than 100 cannabinoids, called phytocannabinoids. Because they're very similar to the body's own endocannabinoids, researchers believe they're able to turn off the inflammation response.
The researchers are encouraged that their findings could be beneficial for the development of treatments for inflammation-related gut disorders, but acknowledge that human clinical trials are still needed.
"We need to be clear that while this is a plausible explanation for why marijuana users have reported cannabis relieves symptoms of IBD, we have thus far only evaluated this in mice and have not proven this experimentally in humans. We hope, however, that these findings will help us develop new ways to treat bowel diseases in humans" said professor Randy Mrsny from the University of Bath Department of Pharmacy and Pharmacology.
The full text of the new study, "Intestinal P-glycoprotein exports endocannabinoids to prevent inflammation and maintain homeostasis," is available to access through The Journal of Clinical Investigation.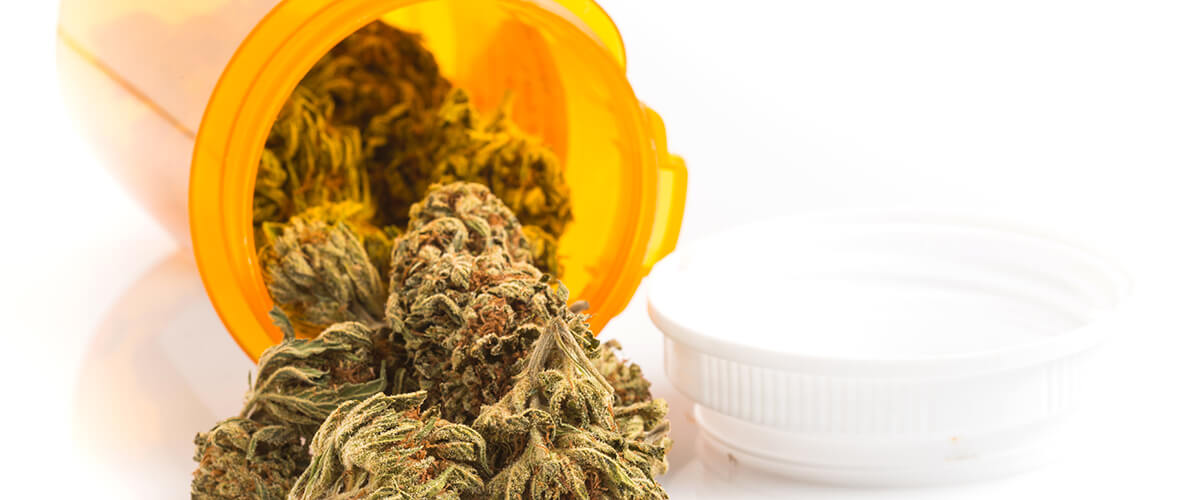 More Research on Cannabis for IBD
Symptoms associated with inflammatory bowel disease vary depending on the severity of the condition. The disease in some cases can be debilitating, because of intense abdominal pain, rectal bleeding, severe diarrhea, fever, fatigue, weight loss, and malnutrition.
Previous studies have found that cannabis and its impact on proper immune system regulation in the gut leads to pain relief, a reduction nausea, and a stimulated appetite in those with inflammatory bowel disease. Patients using cannabis have reported improvements in abdominal pain, abdominal cramping, joint pain, and diarrhea.
Of the 30 U.S. states with legalized medical marijuana, six specifically list inflammatory bowel disease as a qualifying condition. Many others have approved medical marijuana for either Crohn's disease or ulcerative colitis.
You can learn more about what researchers have discovered about the effects of cannabis on inflammatory bowel disease, as well as which states allow medical marijuana for inflammatory bowel disease, HERE.
More on Cannabis
To stay up on the latest studies investigating the therapeutic benefits of cannabis, regularly visit the scientific research section of our news page.