The nationwide survey asked Americans for their views on marijuana and tobacco products.
Americans are in nearly universal agreement that marijuana is far harmful than tobacco products, according to the results of a new survey by Gallup.
The new nationwide survey asked 1,033 American adults about their attitudes on cannabis and a wide range of tobacco products. It is the first time that Gallup has measured views on the two types of substances in a single survey.
The poll found that nearly all – an incredible 96 percent – believe cigarettes are either "very harmful" or "somewhat harmful," while just 56 percent of respondents said the same about marijuana.
Marijuana was ranked as the least harmful compared to cigarettes, chewing tobacco, cigars, and pipes. Twenty-four percent of Americans said they believe cannabis is "not very harmful," while 18 percent said it is "not at all" harmful.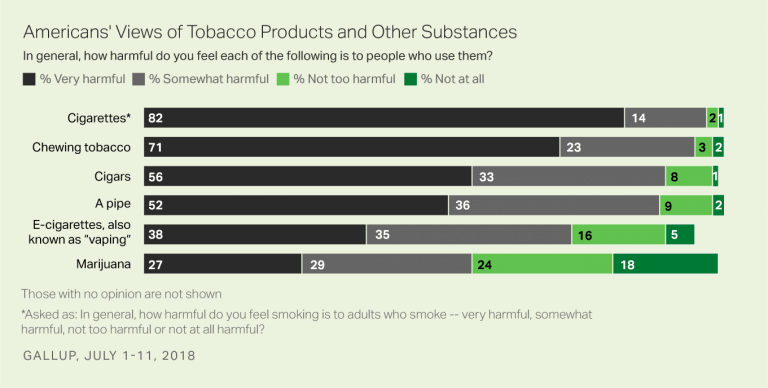 Despite the clear understood dangers of cigarettes, the product was revealed to be the most commonly used of all products. Of all respondents, 20 percent said they smoke cigarettes "regularly" or "occasionally." Thirteen percent of those surveyed said they use marijuana at those frequencies.
Cigarette smoking overall, however, is down. While a separate recent Gallup poll found that 16 percent of Americans surveyed said they had smoked a cigarette in the past week, that number is about half the figure recorded in the 1980s. The greatest drop is seen in young adults aged 18-29.
"Many factors may be turning young Americans against cigarette smoking," said Andrew Dugan of Gallup. "Though public anti-smoking campaigns were well established by the time this age cohort came along, many of these young adults came of age when public smoking bans became more commonplace throughout the country."
Gallup predicted that in the future the number of cigarette smoker would continue to decline while the number of marijuana users would increase as more regulations are imposed on tobacco products and cannabis legalization expands to more states.
"As regulations tighten on cigarettes and loosen on marijuana, marijuana users could outnumber cigarette smokers in the U.S.," said Megan Brenan of Gallup.
The findings are similar to a NBC News/Wall Street Journal poll conducted earlier this year, which revealed that most Americans consider marijuana to be safer than tobacco, alcohol, and sugar.
The Gallup poll was conducted July 1-11 using telephone interviews.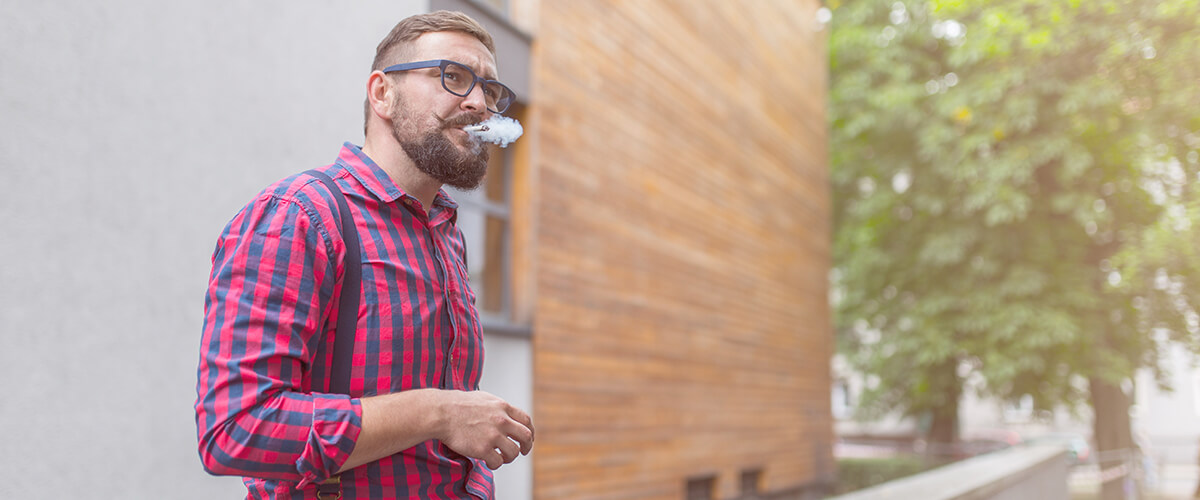 Comparing Safety
The views of Americans regarding the safety of marijuana and tobacco appear to be in line with public health statistics.
Harmful to nearly every organ of the body, smoking cigarettes is responsible for more than 480,000 deaths per year in the United States, including more than 41,000 deaths related to exposure to secondhand smoke. The Centers for Disease Control and Prevention names smoking tobacco as the leading cause of preventable death.
While marijuana can temporarily impair motor skills and thereby increase the risk of accidents, it has never caused a fatal overdose. Smoking any product exposes the lungs to toxins, but an increasing number of cannabis consumers are opting for safer methods, such as vaping, or ingesting edibles and oils.
After assessing the risks of various substances, a 2015 Scientific Reports study concluded that cannabis is low-risk, which "suggest[s] a strict legal regulatory approach rather than the current prohibition approach." A recent review by a World Health Organization committee concluded that cannabis is "relatively safe."
Keeping Up With Cannabis
While marijuana remains prohibited under federal law, 30 states have legalized medical marijuana and nine have legalized marijuana for personal use. In this election year, a number of states, including Michigan, Missouri and Utah, could present voters with cannabis legalization initiatives.
Keep up with the latest cannabis-related polls, studies, and legislative changes by regularly visiting our news page.