State treasurers from four states wrote a letter to Attorney General Sessions requesting a meeting to resolve the federal-state marijuana law conflict.
Officials from several states that have legalized marijuana are hoping to meet with United States Attorney General Jeff Sessions to resolve conflicting state and federal marijuana laws. State treasurers from California, Oregon, Illinois, and Pennsylvania told Sessions in a letter that they need clarity on how the U.S. Justice Department intends to respond to growing legalization.
Marijuana remains illegal under federal law, however 29 states have passed their own laws legalizing medical marijuana and eight of those states have also legalized recreational marijuana.
"This is not just a blue state phenomenon but includes purple and red states in every corner of our country. A majority of Americans now live in states where they have decided to legalize cannabis," the lawmakers wrote in their letter to Sessions.
The conflicting marijuana laws, the lawmakers claim, have kept cannabis businesses and financial institutions in legal limbo. The lack of federal rules "leaves the industry and financial institutions in the dark."
Sessions' Anti-Cannabis Moves
The cannabis industry is especially wary of the legal conflict as of late, due to Sessions in January lifting the Cole Memo, an Obama-era policy, that had protected state-legal operations from interference by federal prosecutors.
While Sessions has since clarified, explaining his prosecutors won't go after "small marijuana cases," the move has made businesses, advocates, and even physicians, concerned. Lawmakers in states with legalized marijuana have sent letters to Donald Trump and Sessions, urging them to allow their markets to operate without a crackdown.
State-legal medical marijuana operations are currently protected from federal interference. Congress just recently extended the Rohrabacher-Blumenauer Amendment, an appropriations rider that prohibits the Justice Department from using federal funds to interfere with state-legal medical marijuana, through September.
A majority of Americans support legalizing marijuana and 70 percent are opposed to the Trump administration's push to crack down on states that have legalized marijuana.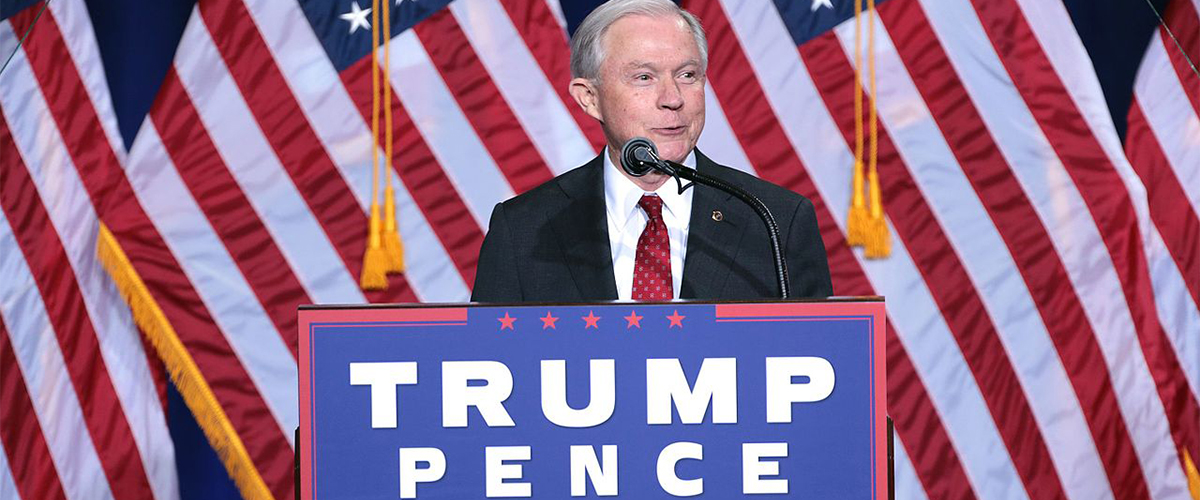 Need for Clarity for Banks
The conflicting marijuana laws have made banks, which are regulated on a federal level, hesitant to service marijuana businesses because doing so could expose them to federal legal trouble.
This has left many cannabis businesses to operate largely in cash and have prevented them from obtaining loans, providing direct deposit to employees, and paying their taxes electronically.
In the letter, the lawmakers told Sessions: "The rescission of the Cole Memos adds yet more uncertainty to the issue at a time when financial institutions and cannabis businesses need greater clarity on how federal law enforcement and regulatory agencies will respond to the growing legalization of cannabis at the state level."
The lawmakers' letter, also signed by various cannabis industry groups and the Maine Credit Union League, conveyed to Sessions that financial institutions need "some comfort that they will not be prosecuted, or lose access to customer assets, simply for banking this industry."
California State Treasurer John Chiang, a Democratic candidate for governor, published the letter. Chiang has also recently taken steps to create a taxpayer-backed bank to service California's legal marijuana industry. California has legalized both medical and recreational marijuana. The state's marijuana market, the largest in the world, is expected to grow to $6.46 billion in a few years time.
Find More Cannabis Industry News
Our news page offers the latest cannabis industry updates, including law changes and new cannabis research findings.