New Jersey Gov. Phil Murphy announced the expansion of the state's medical marijuana program at a recent news conference at his Trenton office.
New Jersey's medical marijuana program is expanding as of immediately in an effort to be more "compassionate, progressive, and patient-friendly." At a news conference in his Trenton office last week, New Jersey Gov. Phil Murphy announced dramatic changes to the state's regulatory program, including the addition of five new conditions that qualify for medical marijuana.
As of immediately, New Jersey physicians can recommend medical marijuana for patients diagnosed with:
Chronic pain

related to musculoskeletal disorders

Chronic visceral pain
The additions expand the state's total number of qualifying conditions for medical marijuana to 17.
"We will have a program that is compassionate, progressive and, at long last, meets the needs of patients," said Murphy. "We're going to make it easier to patients."
Murphy also announced that the costs for patients registering with the state's program would be cut in half, from $200 to $100. Costs of the medical marijuana registry for veterans, seniors, and those on disability will be reduced to $20, a 90 percent drop. Additionally, patients on hospice care will now be eligible for an unlimited supply of medical marijuana.
The governor also announced that physicians who recommend medical marijuana to patients no longer have to appear on a public registry. The move is an attempt to remove concerns of the lingering stigma around doctors who recommend cannabis to patients.
The health department will also begin accepting applications for waivers from alternative treatment centers, the state-licensed shops where patients are able to purchase their cannabis, that are interested in opening satellite locations. In an effort to ensure a steady, long-term supply of cannabis for patients, Murphy also said the program would be working on how to allow direct cultivation, manufacturing, and dispensing.
"We are changing the restrictive culture of our medical marijuana program," said Murphy. "Some of these changes will take time, but we are committed to getting it done for all New Jersey residents who can be helped by access to medical marijuana."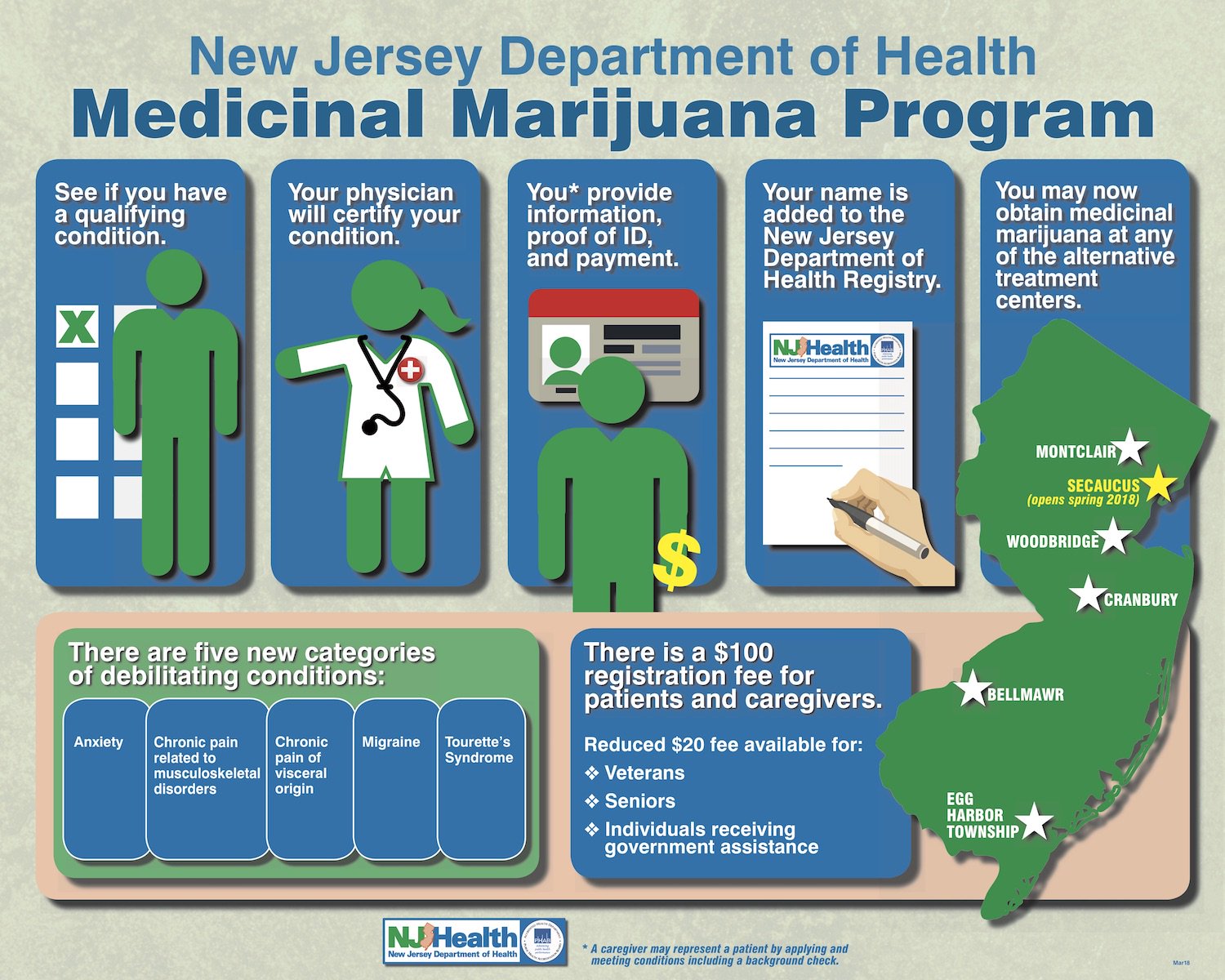 Murphy had signed an executive order in January calling on the New Jersey Department of Health to review the existing program and submit recommendations on how to make it more patient oriented. Those recommended changes are what Murphy has implemented.
"The days of making residents jump through hoops are coming to an end," said Murphy. Later, he added: "We recognize that patients should be treated as patients, not criminals."
During the announcement, Murphy added he would eventually like to see opioid addiction added to the state's list of approved conditions for medical marijuana, referring to cannabis as an "offensive weapon" to the growing epidemic.
New Jersey currently has 18,574 patients, 536 physicians, and 869 caregivers participating in the program. The state saw its patient count nearly double in 2016.
Push for Legalized Recreational Marijuana
Sworn in as New Jersey's 56th governor in January, Murphy has also vowed to legalize recreational marijuana in the state.
Murphy campaigned on the promise that he would ensure adult use marijuana was legalized throughout his campaign, and then doubled down on that pledge at a recent budget address.
Nearly 60 percent of New Jersey voters are in favor of legalizing recreational marijuana.
Keep up With Cannabis News
You can keep up with the latest cannabis industry news, law changes, and cannabis-related research through our news page.