Even long-term exposure to marijuana smoke has no association to adverse effects on the lungs.
Exposure to marijuana smoke does not have adverse effects on the lungs, according to a new longitudinal study published in the journal Chronic Obstructive Pulmonary Diseases. Researchers from the Colorado School of Public Health found that even long-term exposure to cannabis smoke has no link to poor lung health.
The team of researchers assessed whether the use of marijuana had an adverse impact on respiratory function in 2,300 subjects between the ages of 40 to 80 years, some of whom also smoked tobacco. They discovered no such relationship between marijuana smoking and lung health.
The study concludes: "Neither current nor former marijuana use was associated with increased risk of cough, wheeze, or chronic bronchitis when compared to never marijuana users after adjusting for covariates. … Current and former marijuana smokers had significantly higher FEV1 (forced expiratory volume) … when compared to never users. … Both current and former marijuana use was associated with significantly less quantitative emphysema … when compared to never users, even after adjusting for age, … current tobacco smoking pack years, and BMI."
The researchers also found that smoking marijuana didn't contribute to any further lung damage in those who also smoked tobacco cigarettes.
"Among older adults with a history of tobacco use, marijuana use does not appear to increase risk for adverse lung function. … There may be no to little increased risk of marijuana use for a further increase in respiratory symptoms or adverse effects on lung function among those with a history of concomitant tobacco use."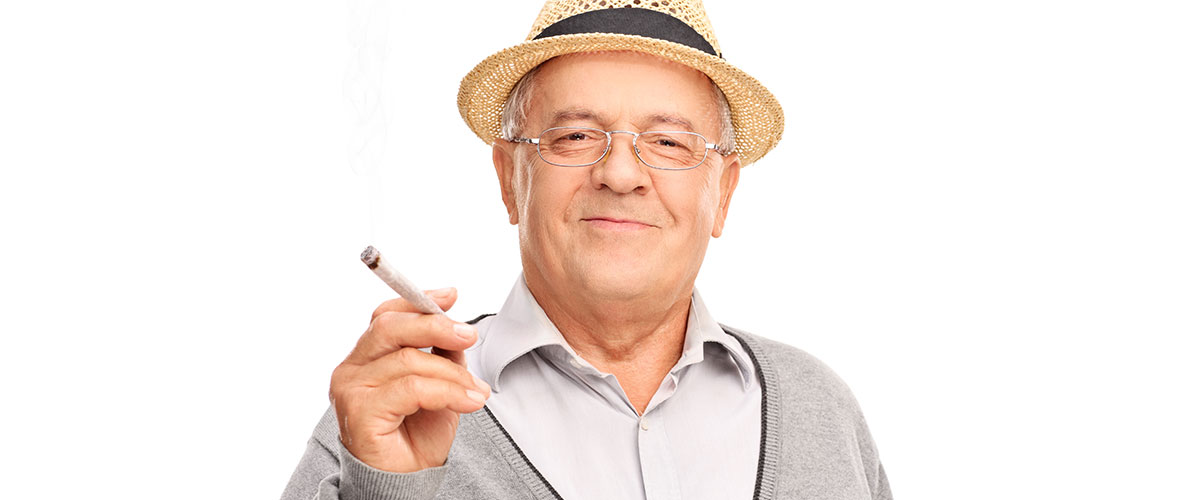 What the Findings Mean
The study was designed to examine whether marijuana smoking increased the risk of COPD, or chronic obstructive pulmonary disease. COPD is a group of lung diseases, including chronic bronchitis and emphysema, where airflow becomes blocked and makes it difficult to breathe. COPD is the third leading cause of death in the United States and is usually caused by cigarette smoking.
The study's findings indicate that smoking marijuana does not carry the same risk of developing COPD as smoking cigarettes.
Past studies have also found there to be no link between marijuana use and adverse lung health. In 2016, researchers from Arizona State University found there to be no negative health effects, such as decreased lung function and impaired cardiovascular health, linked to smoking marijuana.
"In agreement with other published studies, we also did not find that marijuana use was associated with more obstructive lung disease," the latest study concludes.
The entire study, "Marijuana use associations with pulmonary symptoms and function in tobacco smokers enrolled in the subpopulations and intermediate outcome measures in COPD Study (SPIROMICS)," is available to read through the journal Chronic Obstructive Pulmonary Diseases.
More About Marijuana
Marijuana remains illegal under federal law, but 29 states and Washington D.C. have legalized medical marijuana, while 9 of those states plus Washington D.C. have also legalized recreational marijuana. Read more about where marijuana is legal on our education page.
You can learn more about marijuana, including the latest cannabis-related studies, by visiting our news page.