[vc_row][vc_column][vc_column_text]For patients suffering from medical conditions, breaching the topic of medical cannabis with their doctor can be difficult. If you are in this position, you may be unsure how to find a marijuana doctor, or how to begin the dialogue with your doctor, or you may fear that bringing it up will negatively affect your access to healthcare or insurance.
First, let's be clear: asking your marijuana doctor about cannabis as a treatment option is not against the law and no repercussions will come as a result. It is well within your rights to ask your doctor's opinion and to seek the treatment options you feel are best for you or your family.
More than ever, doctors acknowledge the benefits of cannabis and marijuana, and are open to recommending it to patients. Below you'll find some guidance on pursuing medical marijuana with a cannabis doctor.
In What States is it Possible to Get a Medical Marijuana Card?
Most people in the United States live in a state that allows patients to use cannabis therapeutically after getting approval from a marijuana doctor. As of today, 32 states have passed laws permitting medical marijuana and legislative efforts are already underway in many states have yet to do so.
Before asking, "Where can I find medical marijuana doctors near me" or "Can my doctor give me a medical card?" it's important to first figure out the medical marijuana laws in your state. Even among the 32 states with legal medical marijuana, laws and regulations vary. In many, you must be diagnosed with a symptom or disease that is considered by your state's program to be a qualifying condition.
If you live in one of these 32 states with legal medical marijuana, you can pursue getting cannabis card through a marijuana doctor:
The District of Columbia and Puerto Rico also allow medical marijuana use.
What Should I Look for in a Marijuana Doctor?
If you have a condition or symptom that qualifies for medical cannabis in your state, you can start by broaching the topic of medical marijuana with a marijuana dr, or with your primary care physician. Your primary care doctor is likely to have a more thorough understanding of your medical history.
There is a chance that your primary care doctor agrees that cannabis would be beneficial and writes you a recommendation for a medical marijuana card. However, your doctor may be unfamiliar with medical cannabis and hesitant to recommend it. Because medical marijuana laws are relatively new in many states, your doctor may also not have a thorough understanding of local cannabis laws and the process for issuing a recommendation.
If your current primary care doctor is closed to the idea of a medical cannabis treatment for your condition, don't be afraid to look for marijuana doctors or an alternative health care provider. Even with the body of research published online about the benefits of medical marijuana, its use is still considered controversial by some doctors.
Depending on the response you receive, finding a doctor who is a specialist in medical marijuana may be necessary. There are a number of medical marijuana doctors (also known as MMJ doctors or 420 doctors) and cannabis clinics available in states with legalized medical marijuana.
When looking for a marijuana doctor near you, you may consider starting with an online search. Typing in "Medical marijuana doctors near me", "Where to find MMJ doctors near me", or "Where to get a medical card near me" into your favorite search browser should bring up cannabis-supporting professionals nearby. Your online search will direct you to potential marijuana doctors, and may even provide you with a MMJ doctor online review.
The key consideration when searching for a marijuana doctor is to find a medical professional that will put your health and well-being at the forefront. If any primary care physician or marijuana doctor is dismissive or judgemental, there are others out there with a better understanding of the options and issues involved in medical marijuana.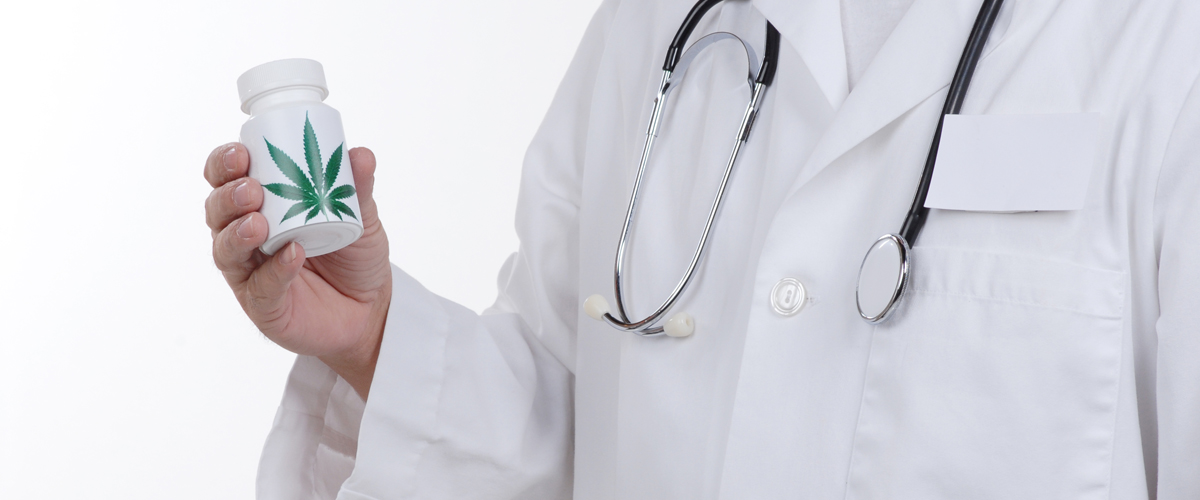 How Can My Doctor Help as it Relates to Medical Marijuana?
Your marijuana doctor can provide you with the written recommendation you need to legally purchase and use medical marijuana. The process for acquiring a medical marijuana varies by state, but in general the first step is to get the go-ahead from a cannabis doctor.
In some states, your marijuana doctor will need to not only certify you for medical marijuana, but also initiative the approval process through your state's medical marijuana online portal. Most, however, require that you yourself upload a copy of the recommendation from your cannabis doctor.
Your MMJ doctor may also offer guidance on the types of cannabis products that lend themselves best to your particular symptom, condition, or disease. Some even make dosage suggestions so that you have an idea of how much medical marijuana to initially take.
How Do I Talk to My Doctor About Medical Marijuana?
You may feel nervous bringing up medical cannabis with your marijuana doctor for the first time. It's perfectly understandable if broaching the topic of cannabis with your marijuana doctor makes you feel uneasy.
As you go in to talk with your cannabis doctor, keep in mind the negative stigma associated with cannabis has already shifted significantly as researchers and experts discover more about its natural benefits. Also, doctors are accustomed to patients bringing them treatment ideas, and federal courts have ruled that the First Amendment protects doctors in discussing cannabis with patients.
Knowing how you'll open up the conversation and being prepared with questions will help you feel more comfortable inquiring about the medical use of marijuana. Below are some suggestions for how to best approach the topic of medical marijuana with your cannabis doctor.
Open Your Dialogue
There are a number of ways to open your discussion regarding medical cannabis as a treatment option. You may mention someone you know who has successfully used cannabis. You can also bring up to your cannabis doctor documentaries you've seen, news stories you've read, or medical studies that are relevant to your condition.
All of these will take on the difficult task of first bringing up the topic of medical marijuana with a marijuana doctor. Once the door to the conversation is opened, it is easier to move into discussing possible benefits and treatment routines to match your specific needs.
Be Honest
It may seem like an obvious suggestion, but it is important to be as candid as possible when speaking with your marijuana doctor or healthcare specialist, especially when mentioning your interest in seeking medical marijuana.
The more information you can provide to your MMJ doctor, the better they will be able to recommend the right cannabis products – such as products high in particular cannabinoids, full-spectrum oils, or topical salves and lotions – for your individual medical condition. Don't be afraid to reveal why you are interested in marijuana or share your frustrations with your current treatments.
Ask Questions
It is important to ask your healthcare provider questions about medical marijuana to judge their experience and knowledge of the subject or to learn more about how cannabis can be used effectively to treat the symptoms of your condition. Here are just a few questions you can bring up to your doctor.
What is your past experience using cannabis to treat your patients?
Do you know of any studies or research on cannabis and my particular condition?
Where can I find reputable information about cannabis? Can you point me toward any medical studies about cannabis being used to treat patients with my condition?
What type of cannabis product would be the best for my particular condition?
Should I use CBD, THC, or both?
How do you recommend that I consume my medical marijuana?
What sort of health care costs should I expect if I start purchasing medical marijuana?
Will medical cannabis interact with any of my other medications or make them less effective?
Are there any adverse health effects or possible complications I should be aware of?
Should I avoid using cannabis if I'm pregnant/breastfeeding?
Are there any activities I should avoid while using cannabis?
These and other questions you ask your doctor can help you discover the best possible course of treatment for your condition, including the addition of cannabis products.
Be Prepared
It helps when discussing medical marijuana with your doctor to be as informed as possible ahead of time.
Do your research: not all doctors are well versed in the use of cannabis as a treatment option. Coming to your MMJ doctor's appointment prepared with medical information about how cannabis can assist your condition can help to convince your healthcare provider that you are serious about pursuing a medical marijuana treatment option.
More to Learn on Medical Marijuana
Once your marijuana doctor provides you with a recommendation for medical marijuana, you will be able to legally buy cannabis from a licensed dispensary and use it in the privacy of your home. Some states also allow registered medical marijuana patients to grow a limited number of cannabis plants at home for personal use.
Individuals throughout the U.S., including in states where medical marijuana is not legal, can legally buy and use hemp-derived cannabidiol (CBD) products without having to first obtain a recommendation or prescription from any type of CBD doctor. CBD oil is a non-intoxicating dietary supplement that supports balance.
If you are interested in medical marijuana, we urge you to visit our education page. Here we get you started by discussing medical marijuana research, state medical marijuana laws, and common questions about using cannabis.[/vc_column_text][/vc_column][/vc_row]